UK Broadcast Transmission


THE TRANSMISSION GALLERY
CRYSTAL PALACE
| | |
| --- | --- |
| Photos by Martin Watkins and Mark Carver | Page last updated: 2013-12-15 |
September 2011
Late September saw a group visit to Crystal Palace by no less than three mb21 tx spotters (Messrs Carver, Whittaker and Watkins). The day started murky but as we wandered around, slowly circling the tower in an anticlockwise direction, the grey sky gave way to blue and by the time we had completed our circuit the light was perfect for illuminating the object of our pilgrimage.

Nothing much has changed at Crystal Palace since it acquired its new UHF hat, but the opportunity was taken to add some photos to the mb21 collection.

Since first publishing these pictures we've had a very useful contribution from "TCPD" who has answered some of our unresolved queries, and the notes have therefore been updated appropriately.
Not a "u" in sight on this Arqiva sign!
The almost new UHF stack now looks as though it's been there for ever... funny how quickly one gets used to change.

TCPD writes:

"Should there be any doubt, all DTT including T2 MUX are from the 8 tiers of 12 panels. (for the first few years MUX C and D used the BBC analogue.)

DSO reserve antenna will replace that and the 4 tier analogue reserve below it with a 12 tier 6 channel antenna to be built after DSO."

There seems to have been quite a worry at Crystal Palace about the possibility of things being dropped during DSO work; both this building and the medium wave transmitter buildings had been covered by protective scaffolding and sturdy temporary roofs.

This side of the site faces roughly ESE.
We're on the north east side of the site, and although this is the least favourable position light-wise for the purposes of photography it can give some dramatic silhouettes of the aerials against the sky.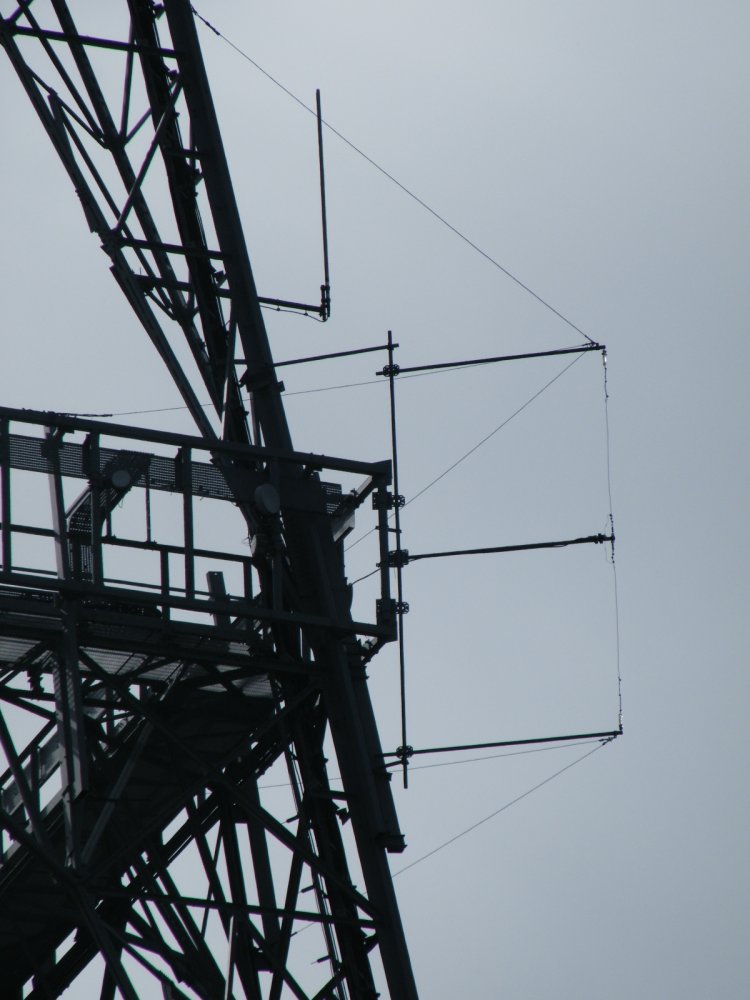 Here's the DRM 25 MHz aerial again. In spite of having a Sony (what else) short wave radio with us we forgot to check if this was radiating. Dohhhh....
....and there - obligingly - is Wrotham, seventeen miles away.
We don't normally see the FM nationals from this side, probably because of the unfavourable light direction.... We did feel that those four tiers need a bit of straightening....
Round the north west side the light is much more favourable and the sky had cleared completely.
Seen from the south west.
TCPD writes:

8 logs in 2 tiers: - a "skew fire" omnidirectional antenna was built for a BBC system known as "reverse bearers" to communicate with outside broadcasts using a digital system in the lower adjacent channel to analogue transmissions, in about 1989/1990.

There were BBC RD reports written about it, don't know if they are published on line. I did a quick search on "reverse bearer" and came up with a brief mention in a BBC annual report. BBC system was probably incompatible with DTT. I believe antennas are still in use, but not by the BBC".

Link to BBC RD report at bottom of this page. System was ceased prior to start of DTT in 1998.

Are there any clues as to what function is served by the single tier of panels, below the DAB aperture and above the national radio aperture?

TCPD writes:

"1 Tier of 4 skeleton slot panels: - another system for BBC Radio OB's."
Back at the foot of the most northerly leg.
On two of the legs are sets of four tiers of single UHF panels, and these seem to fire - roughly - SSW and NW. These ones are on the SSE leg, and on the right of the picture is the second set, with their backs to us. Does anyone know what they do?


TCPD writes:

"2 stacks of 4 UHF panels; - these were put up many years ago for the BBC early experiments with DTT. One set facing central London (for demonstrations at BH etc.), one facing Kingwood Warren. I don't believe they were ever used since, though I have occasionally reminded people looking for access to an antenna that they are still there."
The two mystery UHF panel sets can both be seen in the picture above, taken from the foot of the SSE leg.
Difficult to see, but the MW aerial rises from close to the fence along the road - we can see here the bottom insulator level with the top strand of barbed wire.
We were a bit puzzled by the unexpected polarisation status of the log periodic installed here (although they'd got the azimuth and elevation spot on), but decided to keep quiet and try the beer instead. It turned out to be excellent, and they do a delicious suet chicken and ham pie. Definitely a suitable venue if this type of group outing is repeated.
BBC RD Report: The provision of circuits to outside broadcast locations using spectrum within the UHF broadcasting bands

Back to TX Gallery index | TX main index
| | | |
| --- | --- | --- |
| mb21 by Mike Brown | Hosted by | |