UK Broadcast Transmission


THE TRANSMISSION GALLERY
CHATTON
| | |
| --- | --- |
| Photos by Anne and Nigel J. Coote | Page last updated: 2013-07-14 |
October 2011
Nigel writes:

"This site was due an update on mb21 after the DSO work. My wife and I were in the area for 2 days before the end of October 2011 and thought we would visit the site on the road down to Newcastle Upon Tyne.

This site's buildings were having new roofs and new air conditioning installed at the time these photos were taken on afternoon of Thursday 27th October 2011."
Mast seen from the start of the service road up to site.
Next 3 shots taken from where the road forks, left to site, right to farm.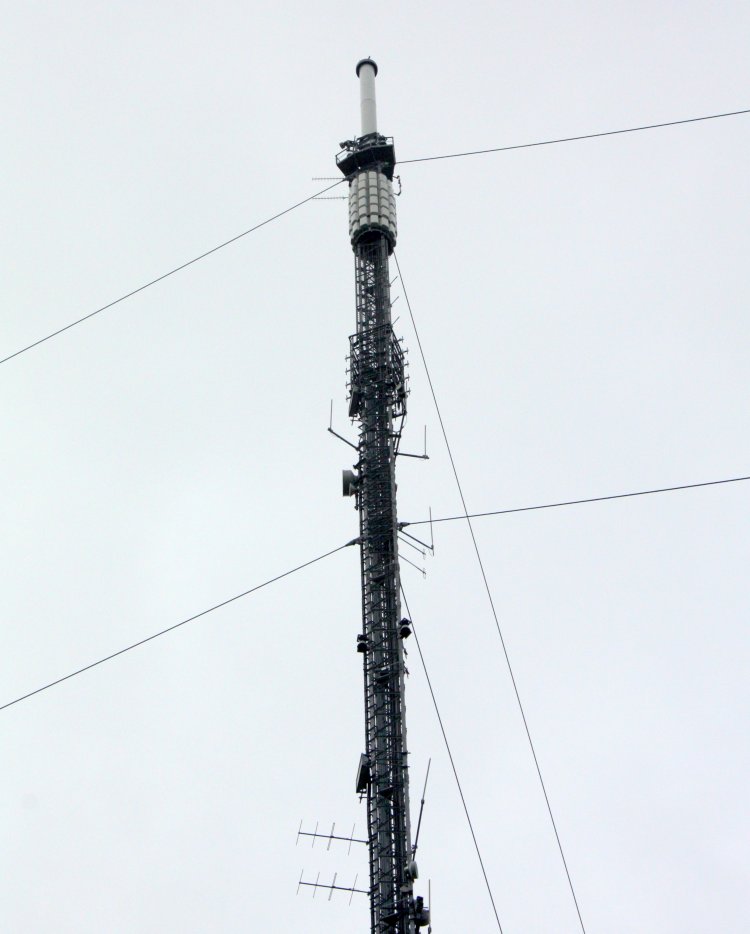 Satellite dish just in front of the bottom of the mast pointing south.
Anne and Nigel have finally achieved something for which mb21 has waited long: we now see for the first time the slant polarised national FM aerials, mounted on the north side of the mast, between the DAB and DTT reserve apertures. As a result of being slanted and on the side of the mast with the poorest light they are truly awkward to capture, but as a result of using the original picture file we've been able to zoom in...
and yet further in.....

Martin W writes: Notice the extensive screening on the Band II aperture; Mark C reports that FM reception from Chatton at Alnwick is rubbish (not in fact the word he actually used) so the coverage seems to be carefully beamed. Sandale (on some channels) is only 200 kHz away, whilst Divis and Peterborough are co-channel. Is this the explanation for the carefully planned HRP?
We'd better hold the zoom at that level!
Now we know what we're looking for the four slant dipoles can just be made out above, once one spots the feed point covers.
You can now see a couple of the slant FMs on the left side of the mast as viewed in the picture above.
Finally, a picture taken in June 2013 by Mark Carver.

It was from a boat off Seahouses, looking inland. The mast is about 11-12 miles away
Back to TX Gallery index | TX main index
| | | |
| --- | --- | --- |
| mb21 by Mike Brown | Hosted by | |