UK Broadcast Transmission


THE TRANSMISSION GALLERY
MORECAMBE BAY
| | |
| --- | --- |
| Photos by Martin Brown | Page last updated: 2017-08-12 |
August 2017
The update list called for some more detailed pictures, so here are some taken on a sunny August morning.
Four tiers of band III dipoles at the top for BBC DAB, with one tier of three sided, slant polarised, band II, skeleton slot aerial panels below for Radio Cumbria.
At the top of this picture, and somewhat lost against the mast steelwork, are two tiers of five element, band III Yagis transmitting Digital One DAB. Lower on the right are the circularly polarised band II Yagis transmitting Classic FM and ILR.
From this perspective the Digital One band III Yagis can be seen more clearly. They are actually above the band II aerials, although it doesn't look that way from this angle.
The band II circularly polarised panels transmitting BBC National FM radio. Note that only this face (northeast) has four tiers, the other three faces only have panels on tiers 2 & 3.
From this angle you can see how this four sided panel array is not square with this four sided mast.
Receive aerials pointing towards Holme Moss. They are mounted with a slight downward tilt. More obvious in the next picture.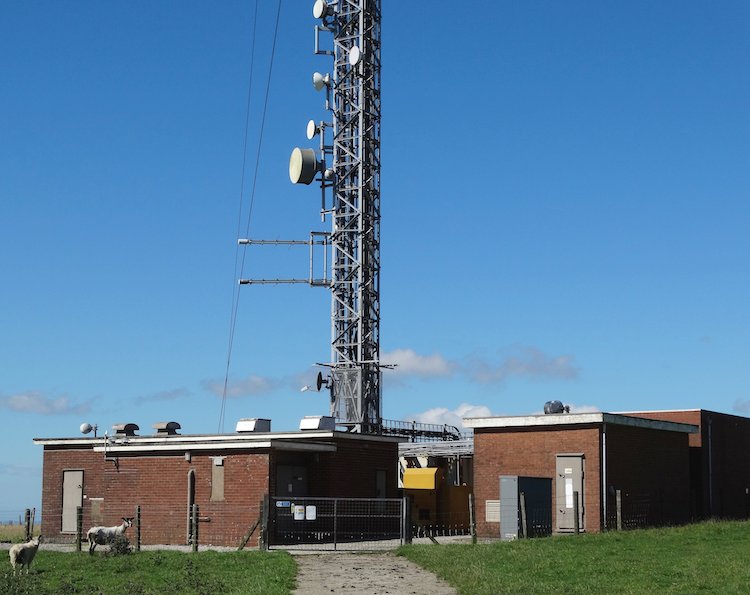 Satellite receive dishes.
Back to TX Gallery index | TX main index
| | | |
| --- | --- | --- |
| mb21 by Mike Brown | Hosted by | |