UK Broadcast Transmission


THE TRANSMISSION GALLERY
CRABWOOD FARM
| | |
| --- | --- |
| Photos by Martin Brown | Page last updated: 2014-03-04 |
DAB Tx Aerials - March 2014
There are 7 towers at this site. All the broadcast services come from the third tower from the right.
OFCOM Tx parameters suggest that the two vertically stacked dipoles are shared by Digital One and the South Hampshire local DAB, while the single dipole above is part of the BBC DAB aerial system.
I believe these two dipoles are the BBC DAB aerial.
No change with the band II aerial shared by all three FM radio services.
Top, band II yagi, SHF aerial, and satellite dishes for the DAB programme feeds.

Mark Carver writes: When the site was originally established in 1987 for the then Ocean Sound, the IBA intended it to be nothing more than an RBR relay of Chillerton Down to serve Winchester. Back then Ocean was a dual service, Ocean Sound West from Chillerton Down (serving predominately Southampton), Ocean Sound East from Fort Widley, serving predominately Portsmouth. It entered trade test in Aug 1987 (carrying a barker tape). The coverage was very good, and Ocean Sound requested using it to establish a third service, called Ocean Sound North: The Light FM. This launched on 6th December 1987, as an 8 hour opt out of Ocean Sound West, it was more 'Radio 2ish' in keeping with Winchester and surrounding area's more 'up market' demographic.

Of course Crabwood also had to be 'line fed', and BT couldn't provide a stereo pair up there from Ocean's studio base (where all three versions originated from) at Segensworth (Junc 9, M27 more or less). The IBA provided a NICAM link from the studios, on 1.4 (I think ?) GHz. That's what the white cigar tube is I think, a helical aerial.

In 1989, Ocean Sound West became 'Power FM', so any RBS use from the Chillerton Down feed would have become redundant. I suspect the yagi was turned towards Fort Widley, which is more of less the same same direction as the studios at Segensworth. Crabwood and Fort Widley today radiate the same service. (Heart FM, with split commercials and local opts from Seg). Chillerton Down now radiates Capital South Coast (local opt outs still from Segensworth).
Cover missing from the SHF dish facing the camera. I wonder how many of these are still in use.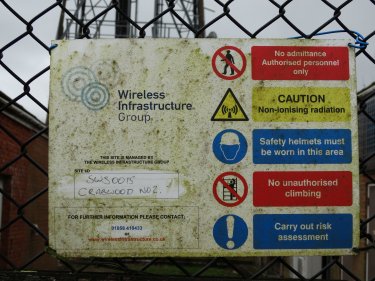 Back to TX Gallery index | TX main index
| | | |
| --- | --- | --- |
| mb21 by Mike Brown | Hosted by | |