UK Broadcast Transmission


THE TRANSMISSION GALLERY
HORSHAM (ARTS CENTRE)
| | |
| --- | --- |
| Photos by Rupert Fennymore, Craig Kelly and Dan Glover | Page last updated: 2014-03-08 |
A slightly unusual site, partly due to geography and history. Originally built for Mercury FM, which entered service on 15th November 1985, with the BBC local station added during 1991. The installation is on the "fly tower" of the Capitol Centre, formerly Horsham Arts Centre, and originally an ABC Cinema.

Two separate receive feeds are needed as Mercury originally covered a local area across the Surrey/Sussex border, with the main transmitter at Reigate. The BBC, however, needed to relay their Sussex rather than Surrey service - albeit these had, and continue to have, the same content much of the time.
Rupert Fennymore contributed the first photos of the site with the comment: mounted on the side of the Horsham Arts Centre - the receiving aerial for this site must be up there somewhere, too.


Then, in July 2009, Craig contributed these photos, adding: I think this installation has now changed. In my first picture you can see, in the bottom right hand corner what looks like part of the bracket that held the orignal aerial.

It was a very bright day when I took the picture, so I couldn't see much detail with the naked eye. Also I couldn't find another location to get another angle. In the second picture, which is actualy cropped from the first, you can see what looks like a matching stub tied to the pole.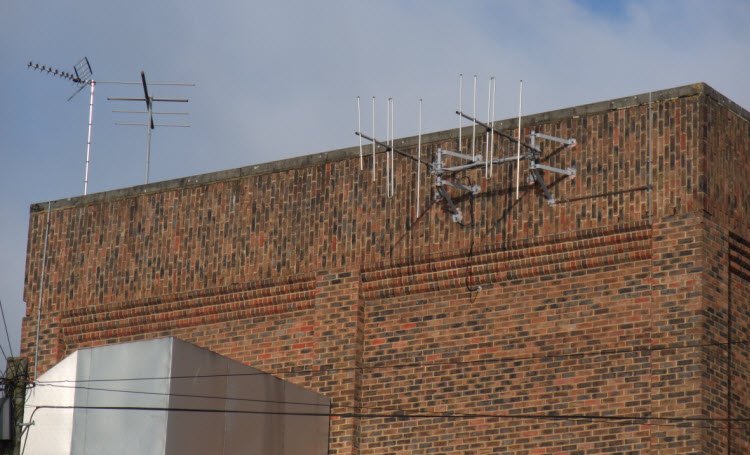 In February 2010, Dan Glover visited and discovered the VP yagis still hiding round the back of the building. There's also an HP yagi on the top.

This ties in with reception of both Reigate (HP) and Burton Down (VP). The TV antenna is assumed to be on Midhurst.


Moving round to the other side of the building we see the array of dipoles is still in place, with the HP rx yagi visible in the corner.

(This photo has been artificially brightened to allow some detail to be seen)
Back to TX Gallery index | TX main index
| | | |
| --- | --- | --- |
| mb21 by Mike Brown | Hosted by | |