UK Broadcast Transmission


THE TRANSMISSION GALLERY
NORTH HESSARY TOR
| | |
| --- | --- |
| Photos by Giles Warham | Page last updated: 2013-04-05 |
Visit c 1991
General view of the Tx Hall. On the left the first group of bays house - amongst other things - Local Radio, whilst the further bay contains the four BBC National drives.
Marconi Band II amplifiers. Power of 10kw valved, run in pairs to give a power of 20 kW, with an eventual ERP of 160 kW.
At the top is the Marconi power metering.

The second unit down with the VR1a label at the top is the main power amp.

Below the power amplifier is what is thought to be a pre amp (with the black module heat sink) and with control logic below that.

BBC local radio setup.

The first bay on the left is an Eddystone 2kw power amplifier. (4 x PSU modules at bottom, 4 x 500 watt brick RF amplfiers in the middle and combiner at top).

Standard BBC drive bay second from left with RDS generator at top, metering below, and below that the main and reserve drives (with black modules heat sink on front).

The remaining bays house patch panels.

First bay on the right has a "remote man work module" at the top, when the button is pressed it alerts the TOC that someone is working on site.

Second bay from the right is the station Automatic Fault Reporter. (Telemetry and control unit).

There appears to be what looks like a pool table on the far left of the picture.
National Radio Band II bays. The third bay along is the system controller. Second bay from the left is probably a receiver bay for RBS (in this case from Wenvoe.)
Our first guess was that these were probably Marconi combiners, but someone "in the know" tells us that they are in fact those of Alan Dick and Co.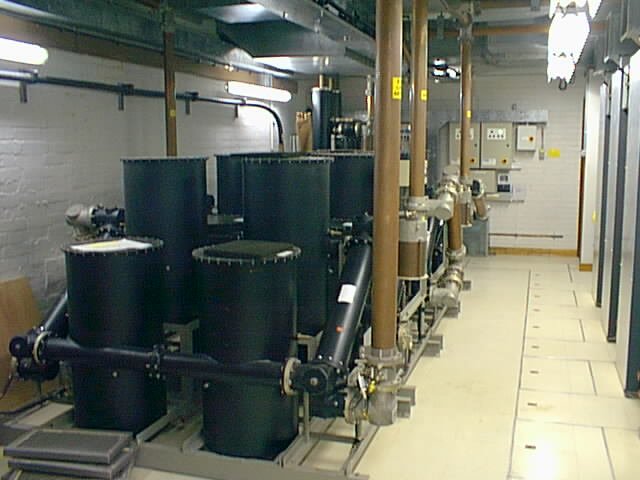 Solid section feeder is used inside the Tx hall; on the right can be seen the test load mounted on the wall, the large grey box could be the test load water tank.
Feeders going out of the building and then up the mast. Top solid section feeder will be national band II.
CML link transmitter/receivers.
Back to TX Gallery index | TX main index
| | | |
| --- | --- | --- |
| mb21 by Mike Brown | Hosted by | |