UK Broadcast Transmission


THE TRANSMISSION GALLERY
HAMELDON HILL
| | |
| --- | --- |
| Photos by Alan Price | Page last updated: 2017-04-01 |
March 2017
Hameldon Hill was the original transmitter for BBC Radio Blackburn, which morphed into BBC Radio Lancashire in July 1981. Even though it has considerable overlap with Winter Hill, Hameldon Hill is still needed to cover East Lancashire - places like Burnley, Accrington, Rawtenstall and Haslingden.

Hameldon Hill is a very elevated site, and the 95.5MHz signal can be heard over a wide area - it interferes with BBC Radio Wales from Wrexham-Rhos on 95.4MHz over much of Cheshire. It makes you wonder why the BBC never installed a low power national radio relay here instead of at Pendle Forest and Haslingden. Perhaps coverage would be too good?

The original slant polarised transmit array was replaced in 1990 with the circularly polarised panels seen today.
The broadcast tower is the one far right.
Radio Lancashire is 1.6kW omnidirectional from here.
FM aerial looking at Holme Moss (probably for Radio Lancashire's RDS feed), the log looking at Pendle Forest.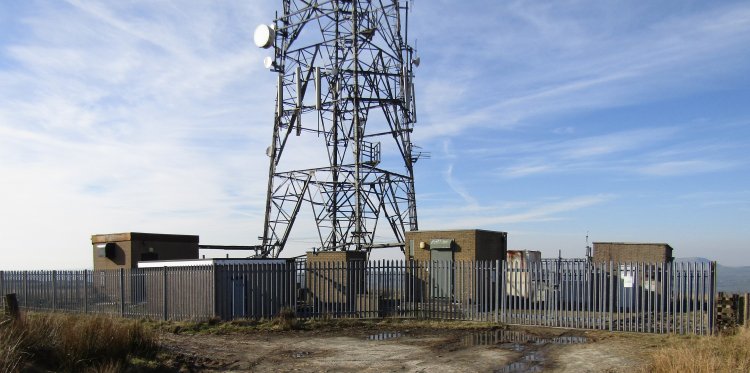 Anybody want to take a guess at which hut is Radio Lancashire's?

[Ed] Chris Whitehead of of ELT Radiotelephones informs mb21 that it is the building just at the right of the tower with the grey door.
Does anybody know what this is used for?

[Ed] Chris Whitehead also informed mb21 that this mast belongs to Lancashire Police and carries Airwaves and L.C.C. services.
Hameldon Hill weather radar. It is owned by the Met Office.
Haslingden | Oakenhead | Pendle Forest | Winter Hill
Back to TX Gallery index | TX main index
| | | |
| --- | --- | --- |
| mb21 by Mike Brown | Hosted by | |