UK Broadcast Transmission


THE TRANSMISSION GALLERY
LACOCK
| | |
| --- | --- |
| Photos by Mark Carver | Page last updated: 2012-06-14 |
June 2012
The Lacock site is one of several providing the programmes of the local radio station BBC Radio Wiltshire.

The unusual construction relies on wooden poles rather than the usual metal masts or towers. The wire aerials are strung between the poles.
View from the road.

Seems to be a 'T' antenna, where the main radiating element is the vertical section, which uses four wires in parallel as a skeleton box section, probably to improve bandwidth, and a capacitance top section.

The centre pole has the aerial tuning unit, that feeds the wires, and in turn is fed by the transmitter that is housed in the mobile phone compound in the distance
Mobile Phone compound, the MF Tx is housed in the grey cabin extreme left
Band II RBS feed aerial, looking at Naish Hill, a couple of miles away
Centre pole. The output from the transmitter in the cabin, is fed underground to the tuning unit seen attached to the shorter pole.
...and the tuning unit, feeds the radiator wiring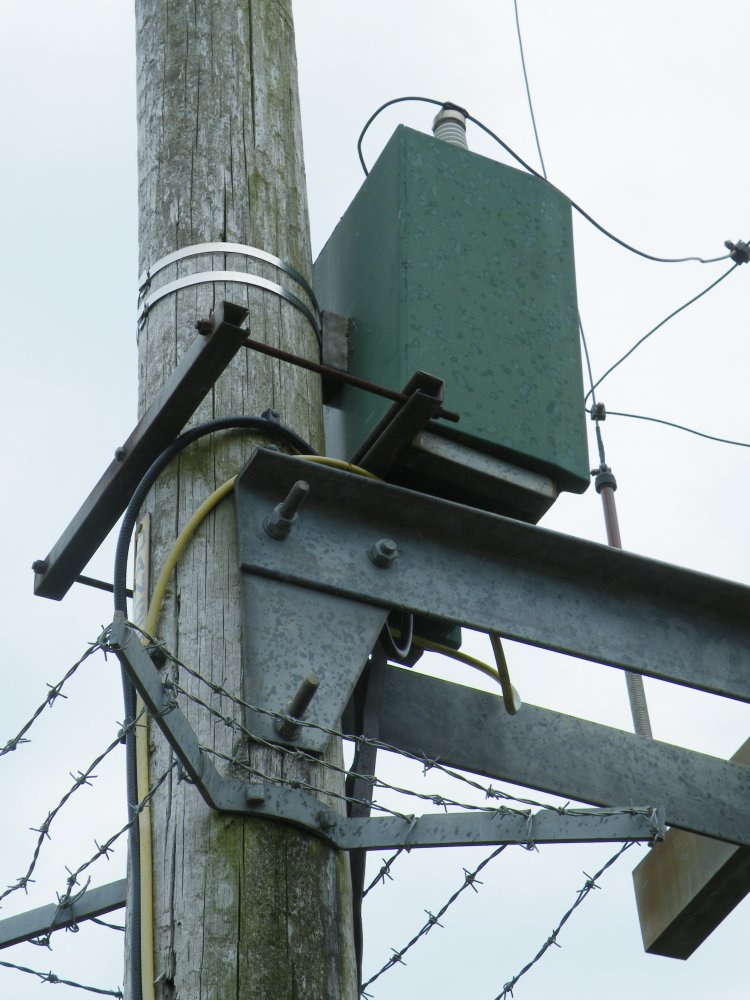 There was slight drizzle when Mark took these photographs, and he reports actually being able to hear the audio from the transmission faintly emanating from the metalwork !
Various warnings and 'Elf'n'Safety stuff
Back to TX Gallery index | TX main index
| | | |
| --- | --- | --- |
| mb21 by Mike Brown | Hosted by | |