UK Broadcast Transmission


THE TRANSMISSION GALLERY
SCARBOROUGH
| | |
| --- | --- |
| Photos by Mark G7RJV | Page last updated: 2012-06-13 |
Pictures taken on a damp grey day in May 2012
Site overlooks most of Scarborough and is a fairly busy site with various telecoms companies using the location. The site itself is located at the edge of a fairly steep hill which can be climbed via a very rough and muddy bridleway. Not an easy walk.

Nearby to the BBC transmitter site is the GCHQ Irton Moor HF station which covers a vast area with various antenna and structures. Opposite the BBC transmitter site is a British Telecom tropospheric scatter installation which was built to provide communications to North Sea oil platforms; this installation is no longer in use and looking somewhat neglected with the BT equipment cabin covered in graffiti and moss, while the enclosure itself is overgrown with grass and trees.

To one side of the BT installation is a O2 tower in its own enclosure.

The BBC tower is the same as was used for BBC VHF broadcasts with the original 'L' shaped transmitter building.

The Radio York medium wave antenna makes use of a pair of wires attached to the top of the tower and descends in a reversed question mark layout. The feed side of the antenna is near the base of the tower in a small enclosure with the antenna matching unit.
BBC tower on the left, behind the tropospheric scatter installation.
Difficult to see the antenna due to grey background.
Yellow is the medium wave antenna, red are the support wires.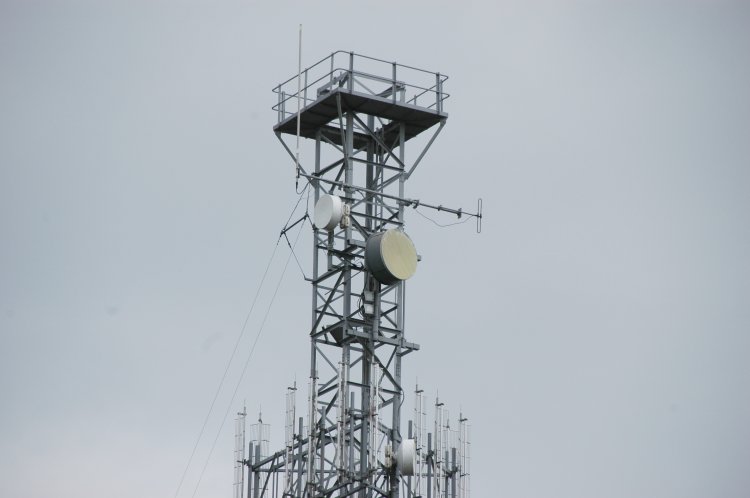 Feed to the antenna. Not easy to see, due to the fencing at the site.
Log antenna on Olivers Mount. Often antenna such as this one could be used reference measurement purposes. Any changes on a UHF transmitter antenna are compared with previous measurements.
Tropospheric scatter installation with a the O2 tower on the left.

I decided to add these pictures as the installation seems to near the end of its life and I suspect it will be dismantled soon.
Dual pole feed point on the dish.
Equipment cabin for the tropospheric scatter installation.
Back to TX Gallery index | TX main index
| | | |
| --- | --- | --- |
| mb21 by Mike Brown | Hosted by | |