UK Broadcast Transmission


THE TRANSMISSION GALLERY
TAUNTON MF
| | |
| --- | --- |
| Photos by Kris Partridge | Page last updated: 2017-10-09 |
Band II added - October 2017
ILR Somerset (Heart FM), moved their Taunton relay transmitter from Taunton VHF to the Taunton MF site in August 2017. Kris reports that this former council yard is being redeveloped into a car showroom. The wooden pole with the band II receive Yagi and the cabin have gone. A new equipment cabin now resides next to the base of the mast.
A slant polarised, band II, 2 element Yagi, has been added near the top of the mast for ILR transmit, with a vertically polarised, band II, 4 element Yagi receive aerial lower down. This points towards Mendip.
Top of the mast with band II transmit aerial which is facing roughly west-southwest into the town centre. Also the top of the sloping wire MF aerial can be seen.
Mendip receive aerial. Used for both the ILR RBL and BBC RBS.
MF antenna tuning cabin on the right with the base of the sloping wire aerial on the left.
Base of the sloping wire showing the feed point and lightening protection spark gap.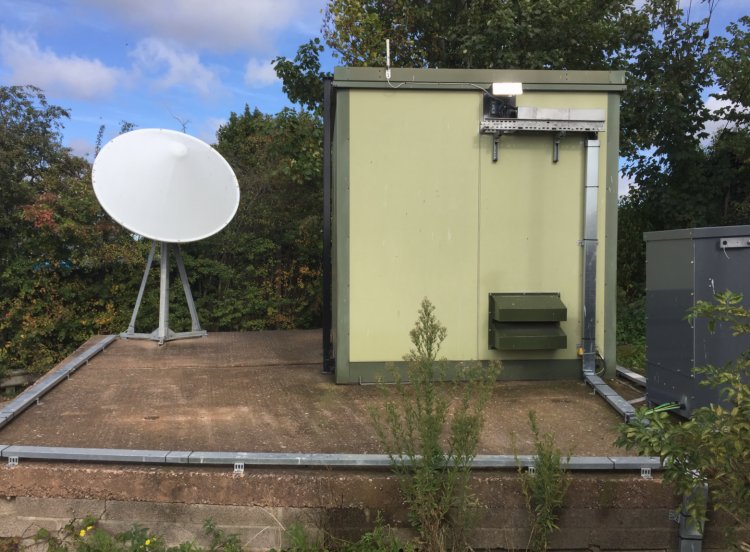 The new cabin with satellite dish for the BBC programme feed.
Back to TX Gallery index | TX main index
| | | |
| --- | --- | --- |
| mb21 by Mike Brown | Hosted by | |