UK Broadcast Transmission


THE TRANSMISSION GALLERY
RAMPISHAM
| | |
| --- | --- |
| Photos by Chris Walford | Page last updated: 2016-05-07 |
Rampisham BBC World Service Transmitter site ~ various dates 2005 - 2015
During the Second World War the BBC built an extensive new short wave transmitting station at Rampisham Down in Dorset in response to war communication demands, knitting the Empire together and maintaining critical diplomatic and military communication links across the globe.
27 steel pylons supported a series of curtain antenna, many of which were electronically switchable, steerable and reversible, giving shaped and targeted beams capable of transmitting worldwide, subject to favourable conditions.
With its distinctive hammer-head towers, the Rampisham system composed a characteristic and alien landmark on this rural hilltop.
Rampisham made its final transmission during 2011, and most of the towers have been demolished at the time of writing (May 2016).
Construction on the site for solar PV generation was started, but has been suspended pending the settlement of a planning dispute.
Rampisham Down : long shot in the landscape before demolition.
January 2012
24 hours, 365 days each year for over 70 years, all weathers.
January 2012
Towers and curtains.
November 2005
Transmission lines, switches, curtains and towers.
November 2005
Established in service
(photo slightly enhanced to show up the rigging).
November 2005
Masts and Curtains.
January 2012
Waveguides and transmission lines.
January 2012
HF antenna switch.
January 2012
HF switch ~ detail.
January 2012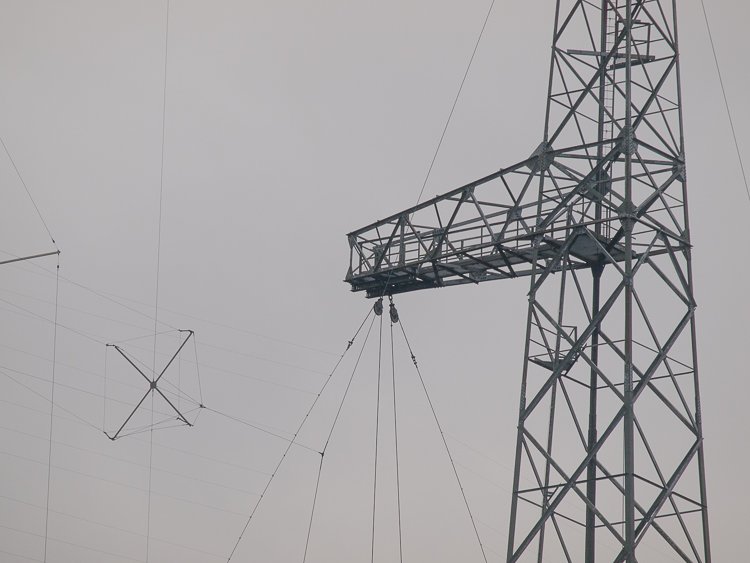 Tower detail.
January 2012
Tower and array detail, showing how complicated the suspended assemblies were.
(January 2012)

More flying assembly detail.
January 2012
Four-in-a-line, dressed to party;
towers A - D, rigged.
January 2012
Sorry entrails;
demolition has started.
February 2013
Naked towers, Four-in-a-line.
February 2013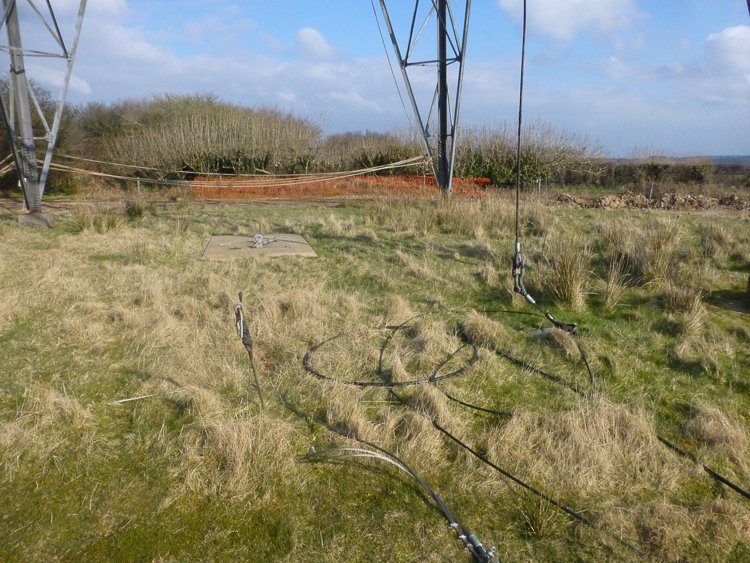 The arrays are down, the towers remain.
February 2013
DANGER and Identity signs.
February 2013
It's thinning out
February 2013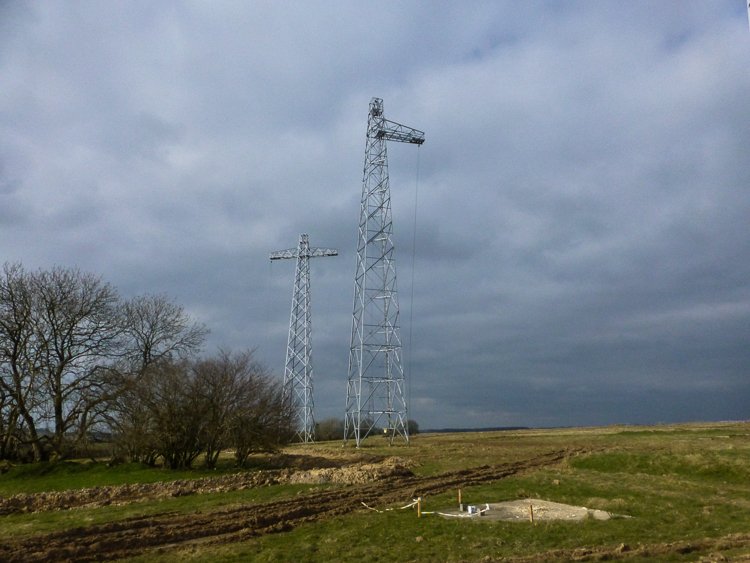 Pylon DANGER and identification signs.
February 2013
Survivors in the bleak Rampisham Down hilltop mist.
December 2015
Redundant anchorage turnbuckles, vacant in the elements.
December 2015
Survivor (so far), in hilltop mist.
December 2015
Four disappearing into the mist.
December 2015
Back to TX Gallery index | TX main index
| | | |
| --- | --- | --- |
| mb21 by Mike Brown | Hosted by | |