UK Broadcast Transmission


THE TRANSMISSION GALLERY
GUILDFORD
| | |
| --- | --- |
| Photos by David Foord, Nick Rice and Rupert Fennymore | Page last updated: 2016-03-22 |
Numerically the first relay of Crystal Palace (site 101.01), BBC 2 Guildford entered service on 19th November 1966 - see BBC Research paper linked below. BBC 1 was added in October 1970, ITV from 24th March 1972 and Channel 4 from October 1984.

ILR Guildford (County Sound) was the first radio service to start broadcasting from this site on 4th April 1983. BBC FM radio was added on 15th August 1984, with Radio 1 from 16th November 1990, Radio Surrey from 14th November 1991 and Kane FM from 23rd September 2011.

DAB service dates are: BBC, 1st August 1997; Digital One, 10th August 1999; London 1, 12th June 2000; London 2, 13th November 2000; London 3, 16th January 2002; Surrey, 12th December 2013; Sound Digital, 29th February 2016.

The original configuration used twin troughs for receive but at some stage these have been replaced by a log periodic (or maybe more than one - see later photographs).

These photos show FM, DAB and interim DTT all in place.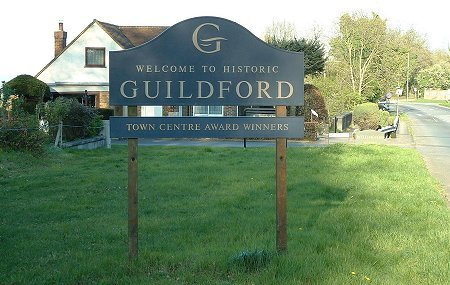 Nick Rice: "This took a while to stitch together in Photoshop but I feel it shows all the Guildford masts in stunning perspective - I'm quite pleased with it! (Shame it was cloudy!)"
It was brighter at the time of David's visit...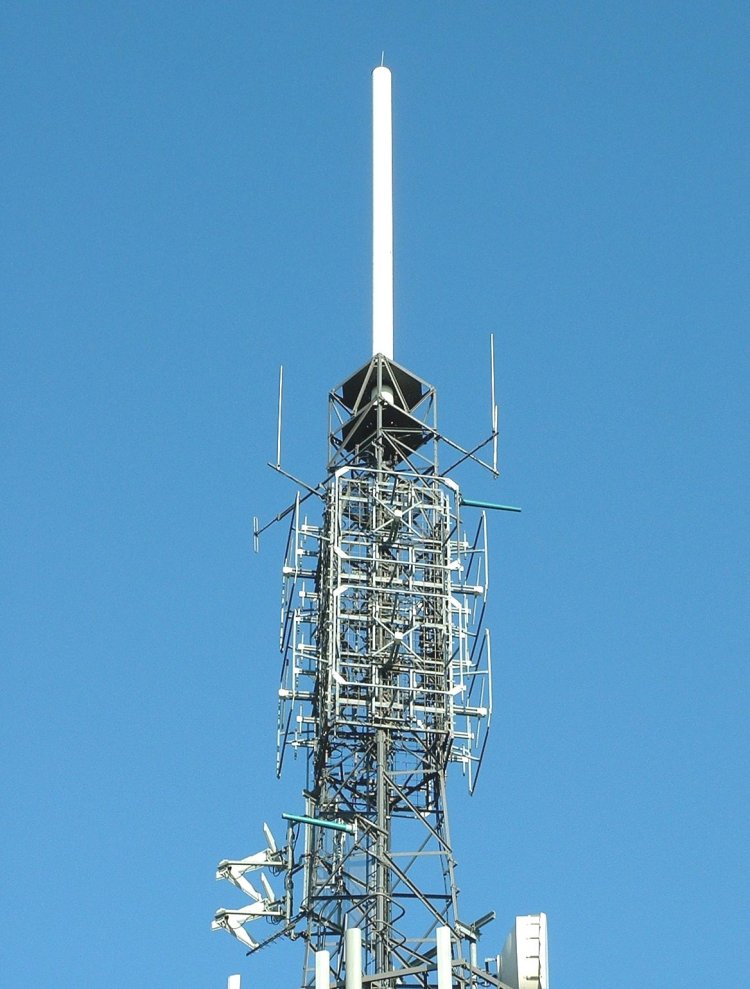 At the top the UHF cylinder - possibly not the original from 1966 but of similar type.

BBC Surrey and the national networks share the two tiers of panels. Ofcom data is slightly unclear when it comes to the local commercial station - there doesn't seem to be a separate antenna yet the parameters are different.

All DAB services share the same array, embedded within the Band II aperture.

Bottom left: two groups of shrouded logs for interim DTT. These are arranged as crossed pairs but with a third log in the centre at each level.

The single log below is the analogue feed from Crystal Palace.
David Foord's view, from the site, of Guildford Cathedral
Above and below: two shots taken by Nick Rice on a cold, snowy day in January 2003 from Mare Hill near Milford - some 7 miles distant from the Guildford site!
Guildford UHF Relay Station: Summary of Installation (BBC Research paper)

Back to TX Gallery index | TX main index
| | | |
| --- | --- | --- |
| mb21 by Mike Brown | Hosted by | |