UK Broadcast Transmission


THE TRANSMISSION GALLERY
TUNBRIDGE WELLS
| | |
| --- | --- |
| Photos by Martin Brown | Page last updated: 2017-03-20 |
New UHF cylinder - March 2017
Tunbridge Wells has had a new UHF transmit cardioid aerial cylinder fitted in preparation for 700 MHz band clearance in 2018. This is because some of the DTT multiplexes here are expected to be allocated channels in band IV. The old aerial was designed for channels in the lower half of Band V only.

During the changeover period, services were transmitted from temporary panel aerials at reduced ERP. These are just below the cylinder. The work was completed on 17th March 2017.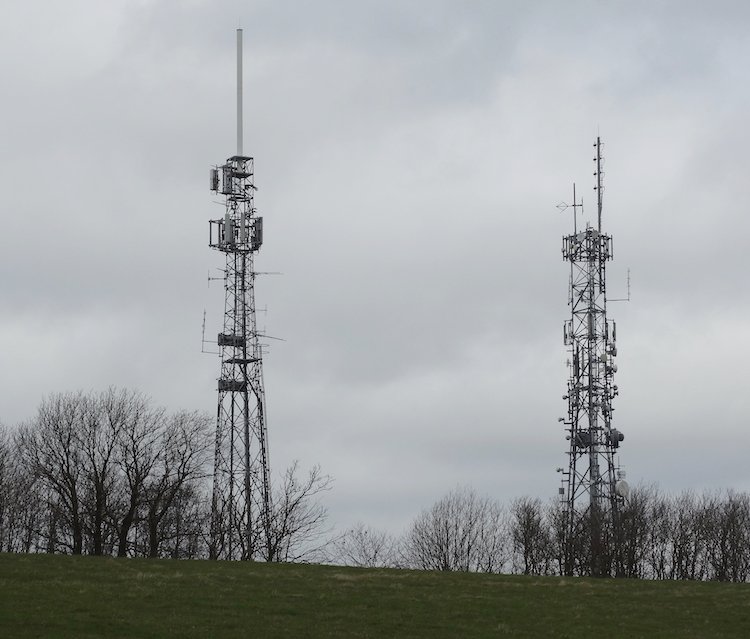 The new cylinder. Doesn't look different from the old one. The temporary UHF panel aerials are on the left, replacing the interim DTT shrouded logs seen in the earlier pictures.
Rear of the temporary UHF panels and the upper 4 Heathfield pointing Yagis.
The temporary UHF transmit panels from the front.
I wonder whether this old cylinder is to be scrapped seeing how they've gone to the trouble of wrapping up the connectors.
The innards of this cylinder don't look to have been there since 1965, cables branded "RFS", clean bolts and jubilee clips.
The original trough receiving aerials for Crystal Palace are still in place as are the 4 Yagis pointing towards Dover.
On the left are the lower 4 Heathfield Yagis and a band II dipole. On the right are the 4 Dover Yagis, although the lower pair seems to be drooping downwards now.
This Marconi band II dipole is believed to be the original KFM (now called KMFM), transmit aerial.
On the other tower, no change to the band II, FM radio and band III, DAB aerials.
Back to TX Gallery index | TX main index
| | | |
| --- | --- | --- |
| mb21 by Mike Brown | Hosted by | |