UK Broadcast Transmission


THE TRANSMISSION GALLERY
WORCESTER (ELBURY PARK RESERVOIR)
| | |
| --- | --- |
| Photos by Adam Wisher | Page last updated: 2018-01-08 |
New 700MHz Clearance Transmitter for Worcester - October 2017/January 2018
I stumbled upon the details of this new transmission site by accident whilst looking at the planning pages of Worcester City Council's website. After 700MHz clearance in the region in March, reception of Malvern in parts of the city will be affected by co-channel interference from The Wrekin, so seemingly it has been decided that a new transmitter is required to combat this. Digital UK documents confirm the transmitter and that it will be part of an SFN with Ridge Hill.

The chosen site at Elbury Park Reservoir is on an existing Wireless Infrastructure Group tower that has only been used by utilities (presumably Severn Trent Water as the location suggests) up until now. The Gorse Hill and Elbury Mount area is a nature reserve, and the highest part of Worcester city. The views from up here across the city and over towards the Malverns are excellent.

The first pictures show my visit to the site in October 2017 before any work had taken place, and then the final two in January 2018 when it looked like BT fibre had just been installed, with a brand new manhole cover and trench leading into the current enclosure.
The tower in October 2017 before any work took place.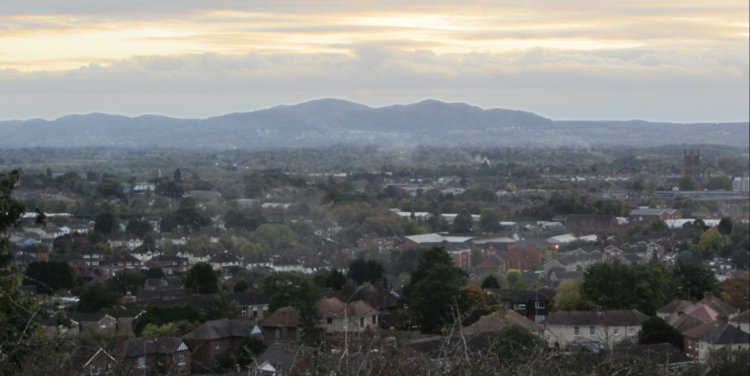 View over the city centre of Worcester and the Malverns from the site.
Brand new BT manhole just outside the existing compound in early January 2018.
...and a new trench to go with it, leading into the compound from down the access road. The planning applications show the planned installation to have a receive log-periodic pointing in the direction of Sutton Coldfield or Bromsgrove (depending on polarisation). The signal for both is very strong in this part of Worcester, but they both carry separate sub-regions to Ridge Hill, making an SFN formed in this way impossible without any changes. Presumably this new BT installation implies that the transmitter will actually be line-fed by fibre.
Worcester (Elbury Park Reservoir) index
Malvern | Ridge Hill | The Wrekin
Back to TX Gallery index | TX main index
| | | |
| --- | --- | --- |
| mb21 by Mike Brown | Hosted by | |