UK Broadcast Transmission


THE TRANSMISSION GALLERY
WINTER HILL
| | |
| --- | --- |
| Photos by Tony Dunmore | Page last updated: 2011-11-21 |
Pictures part 2
Pictures taken November 2011.
GRP shroud was removed to allow installation of the PSB and COM antenna.
PSB antenna at the top. Top of antenna is at 292.6m and the bottom is at 280.4m AGL.

COM antenna below. Top of antenna is at 275.4m and bottom is at 262.3m AGL.

GRP shroud below contains other antenna for other broadcast services and reserve antenna.
The round dome unit on its own platform is a microwave OB receive point, thought to be used by the BBC and remotely controlled from the CTA in Manchester.
The stay level being at 198 m, and Ofcom showing the BBC and D1 DAB aerials at 205 m agl, we can only assume that these DAB antennae are behind that bottom panel of the GRP shield at the very top of the photo.
Presumably the slightly different orientations of the two BBC aerials is of significance.....

(From top to bottom: - BBC National, BBC local, ILR 97.4 MHz; described in more detail on previous page)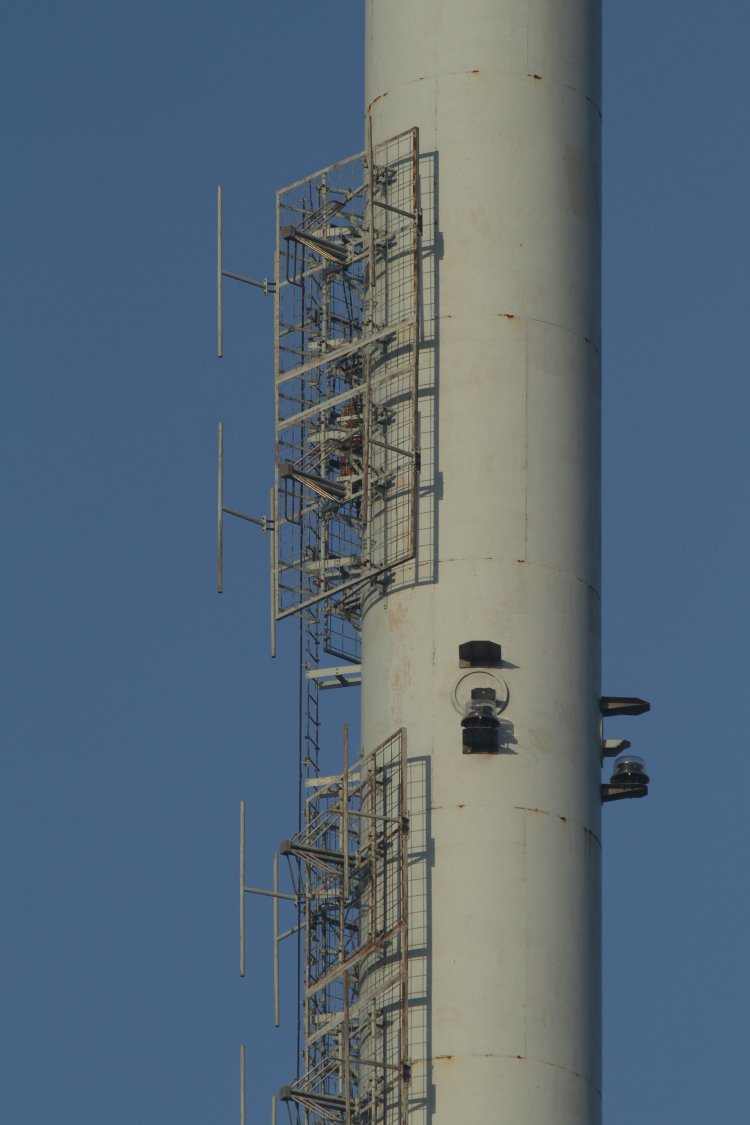 BBC local aerial in detail, with national and ILR above and below respectively.
The 97.4 MHz skeletal slots in detail.
The two double dipole aerials on the right are probably a DAB service. Ofcom lists DAB aerials at heights of 40 and 32 m agl. The platform level suggests that these are at 32 m, but we're not sure we can see any other DAB aerials at 40 m agl.
The downwards tilt (mentioned earlier) on the Channel M aerials can be seen clearly above.
Ofcom Manchester Local Licence Document (see pg 17 onwards)

Back to TX Gallery index | TX main index
| | | |
| --- | --- | --- |
| mb21 by Mike Brown | Hosted by | |