UK Broadcast Transmission


THE TRANSMISSION GALLERY
LEES
| | |
| --- | --- |
| Photos by Harry Broughton | Page last updated: 2016-07-20 |
Photographs taken June 2016
I took some pictures of the Lees transmitter whilst on a quick visit to all my local masts in the area in June 2016. Unfortunately it wasn't the bright summer's evening I was hoping for, instead I was hampered by poor light, frequent showers and grey clouds!
Lees transmitter, to the East of Oldham, overlooks and broadcasts to the villages of Lees itself, Greenacres, Waterhead as well as the Saddleworth villages of Springhead, Austerlands and as far East as Grotton, all of which are slightly shielded from Winter Hill and Saddleworth; in practice it's only really in the Waterhead/Greenacres areas that the transmitter appears to be heavily used.
General view of the transmitter, a rather typical-looking low power relay, although it does seem as though a second strengthening tower has been bolted to the original; maybe the original television mast was improved when provision was made for a mobile phone facility.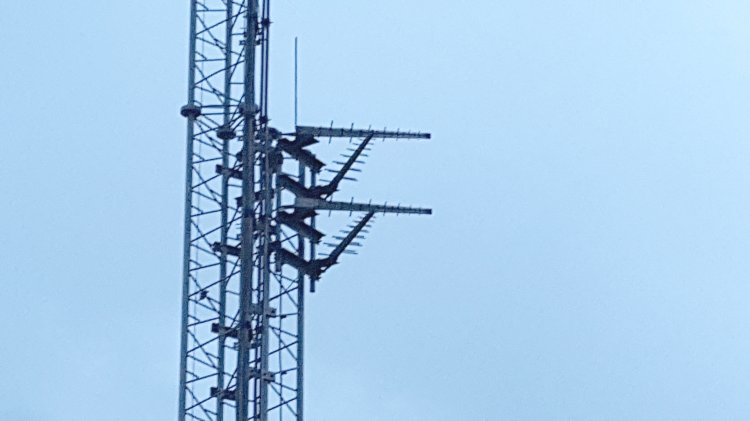 A look at the transmit aerials directed towards the lower-lying villages and suburbs, 4 log periodics provide the radiation in a Northerly direction
Here are the receiving logs which point Westwards to Winter Hill, around 20 miles away.
A look at some of the non-UHF-related communications equipment on the "other" mast.
A view to the East with the local Saddleworth relay just about visible, just next to the electricity pylon in the centre
Westwards towards Oldham; you may just be able to make out the North Oldham relay just visible on the ridge. Winter Hill is also in this direction, but hielded slightly because of the local topology.
A final look at the transmitter.
Back to TX Gallery index | TX main index
| | | |
| --- | --- | --- |
| mb21 by Mike Brown | Hosted by | |