UK Broadcast Transmission


THE TRANSMISSION GALLERY
WHARFEDALE
| | |
| --- | --- |
| Photos by Mat Overton and Albert Ross | Page last updated: 2014-05-07 |
For travellers over Askwith Moor to the North East of Ilkley, the first sight as they climb to almost 300m at the top of the heather moor is the impressive sight of Emley Moor in the distance, south of Bradford. The road then sweeps to the left taking you right past the Wharfedale transmitter, situated on the edge of the nearby Farnley Moor, overlooking Otley.

For those in the Wharfe valley, Emley reception is made impossible by the 402m Rombalds Moor to the West (better known as Ilkley Moor) and Guiseley Moor to the East. Originally built by the ITA, BBC 1 & 2 went into service late in 1970, with ITV from 1st September 1971 and Channel 4 from March 1984. The UHF cylinder contains a SW (220°) cardioid. DSO was on 7th and 21st September 2011.

BBC national FM radio was added on 12th October 1983, with Radio Leeds on 22nd November 1983 and Radio 1 from 1st March 1994.

There can't be many staffed relays, yet on my Sunday afternoon visit I was made to feel very unwelcome by a few sheep guarding the buildings at the base of the tower! I was very rudely told to bleat off which I did after sheepishly snooping round taking a few pictures!

It was a hot and humid day and as I arrived the air conitioning units were in full operation on the building to the right of the transmitter which I suspect are for the mobile phone and communication system. The sign on the gate marks it as NTL property, but the building directly below the transmitter has a NGW sign on the side.

A pair of troughs can clearly be seen pointing South towards Emley. Also note the satellite dish at the bottom corner of the transmitter, clearly marked with a Mercury logo and the wording "NOT SUITABLE FOR TELEVISION RECEPTION THIS EQUIPMENT IS ALARMED". In the early days of Sky, were domestic satellite dishes in such short supply that the installers thought that dish rustling could overtake sheep rustling as the number-one local crime?!
Picture taken circa 2000.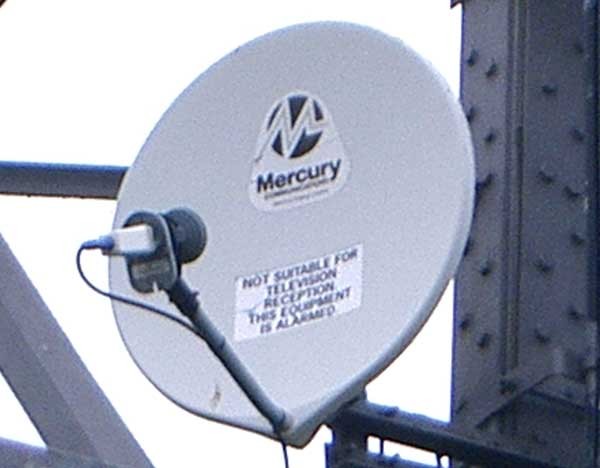 Back to TX Gallery index | TX main index
| | | |
| --- | --- | --- |
| mb21 by Mike Brown | Hosted by | |