UK Broadcast Transmission


THE TRANSMISSION GALLERY
SHEFFIELD (CROSSPOOL) / TAPTON HILL
| | |
| --- | --- |
| Photos by Richard Moore | Page last updated: 2016-08-10 |
The main TV/Radio/DAB relay site for Sheffield, located at the edge of the city in the residential area of Crosspool. It is situated at the site of a reservoir, and access is not really possible without risk of the neighbours calling the police!

Arqiva refer to the site as Tapton Hill, for some reason.

The original 405-line BBC TV, VHF channel 1 transmitter was on a 36.6m tower and entered service on 24th May 1960. FM radio was added on 2nd September 1963. Radio Sheffield launched on 15th November 1967. This tower was replaced with a 45.7m tower for UHF TV. BBC 2 entered service early in 1969.

With the collapse of the Emley Moor mast on 19th March 1969, which provided the BBC 2 RBL feed, a temporary alternative RBL from Waltham was installed. BBC 2 was back on the air by 5pm on the 21st. Also following a feasibility study on the 21st March, the ITA installed a 405-line, relay transmitter for ITV on VHF channel 6 in just two days. Went into service on the 23rd March 1969. BBC 1 and BBC FM radio were unaffected as their RBL source was/is Holme Moss. Both BBC & ITV 405-line transmission closed on 6th April 1982.

UHF BBC 1 & ITV were in service by early 1972, with Channel 4 from July 1983 and Channel 5 available from the launch on 30th March 1997. DTT was added in 1998. DSO was on 10th and 24th August 2011.

ILR Sheffield (Radio Hallam) launched on 8th February 1975 and shared the BBC aerial. FM radio was converted to mixed polarisation on 12th October 1983, with Radio 1 added on 11th December 1992. Classic FM was added in June 1993, Galaxy 105 (105.6 MHz) on 14th February 1997, Real Radio (107.7 MHz) on 25th March 2002, Sheffield Live (93.2 MHz) on 29th October 2007.

DAB service dates are: BBC, 22nd December 1997; Digital One, 30th September 1999; Sheffield, 28th October 2000; Yorkshire, 23rd June 2003 (closed 30th June 2015); Sound Digital, 29th February 2016.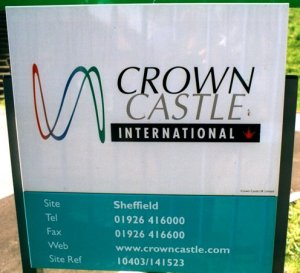 Sheffield (Crosspool) / Tapton Hill index
Back to TX Gallery index | TX main index
| | | |
| --- | --- | --- |
| mb21 by Mike Brown | Hosted by | |