UK Broadcast Transmission


THE TRANSMISSION GALLERY
MAESTEG
| | |
| --- | --- |
| Photos by Martin Brown | Page last updated: 2017-12-01 |
DAB added - July 2015
BBC DAB entered service on the 30th June 2014.

Maesteg was built around 1972/3 for UHF TV and would, almost certainly have used a cardioid, within a GRP cylinder, for the transmit aerial. Log periodics weren't used until later into the 1970's. Ogmore Vale being the first from August 1974. Therefore all those Tx logs must be a later modification. I wonder when this change happened?

Maesteg golf club is next to the site, with a convenient car park.
The DAB aerials added at the top.
The site compound still in the sunshine against the darkening sky. The rain held off, while I was there.
DAB satellite receive dish.
The Norsat LNB is for the 12.25 - 12.75 GHz band, 10 kHz stability, 0.8 dB noise figure. Link to data sheet at the bottom of this page. The other device is a silica dehydrator to keep the moisture out of the waveguide.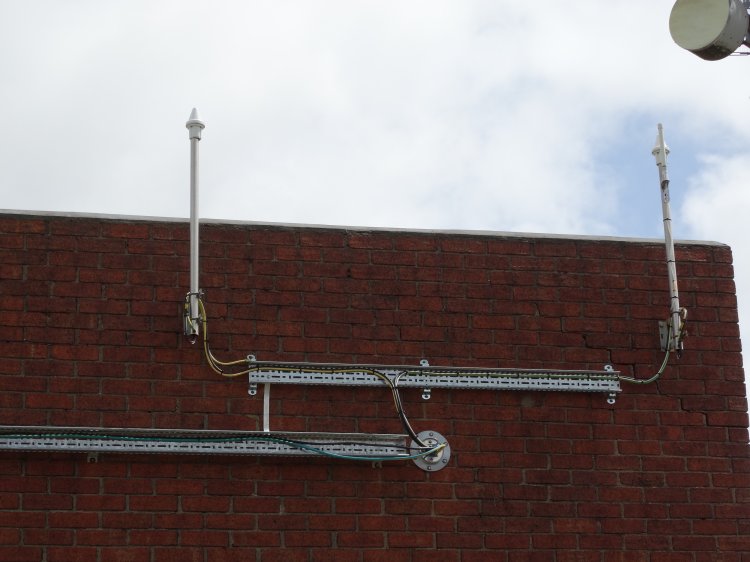 Twin UHF receive trough aerials and the arrow points to a UHF log-periodic. All are receiving Wenvoe.
That log, close up. Looks a bit tatty.
Croeserw 4.3 km away, as seen through the haze from Maesteg.
Foel Fynyddau, 6.4 km away, as seen through the haze from Maesteg.
Croeserw | Foel Fynyddau | Ogmore Vale
Back to TX Gallery index | TX main index
| | | |
| --- | --- | --- |
| mb21 by Mike Brown | Hosted by | |