UK Broadcast Transmission


THE TRANSMISSION GALLERY
CALDBECK
| | |
| --- | --- |
| Photos by Anne and Nigel J. Coote | Page last updated: 2011-11-28 |
October 2011
This site was the second one we visited on our way home from spending a couple of days in Newcastle Upon Tyne, the first site was Sandale. Caldbeck site is 1.4 miles (2.3km) from Sandale as the crow flies but 7.8 miles (12.5km) by road. The service road up to Caldbeck site is quite long, nearly a mile (1.5km) but it is well maintained.

Good view of the masts from the main road. The old mast is clearly finally in the throes of being dismantled.
The second of two signs on the approach.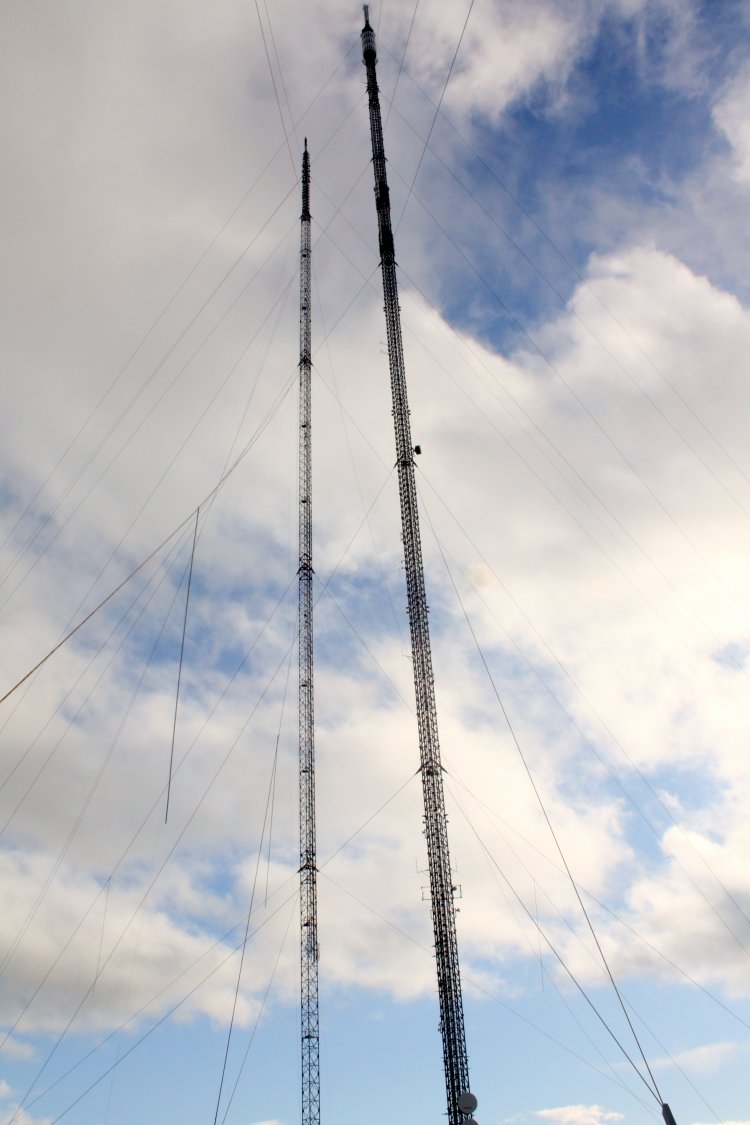 Notice the chains left on the stays.
One of the concrete blocks for anchor stays with the Sandale mast in the background.
The planning documents refer to the cantilever panel array at the very top (mean ht 331 m agl) as "PSB main antenna" (chs 28/30/25) and the lower cogged panel aerial (mean ht 309 m agl) as "COM main antenna" (chs 23/26/29).

This set-up doesn't follow the usual design comprising main and reserve aerials, which is what might have been expected.

We can also see the two "Scottish" aerials; Scottish PSB 1 panels (mean ht 221 m agl, ch 22) and Scottish ITV/PSB 2 panels (mean ht 201 m agl, chs 24 & 27). The Scottish PSB 1 aerial fires NE and ESE whilst the Scottish ITV/PSB 2 aerial seems only to have panels on ESE.
One of the biggest anchors I have seen.
Another anchor stay with a view to the north.
Three more anchored stays with a view to the north west and a chain swaying in the wind.
A close up of a stay with a chain blowing in the wind.
On the new mast can be made out the 96.4 MHz ILR tx aerials (looks like a pair of crossed polarisation three element Yagis) at 161 m agl, and DAB D1 tx aerial at 107 m agl.
96.4 MHz tx aerial at 161 m agl.
A chain really swaying in the wind.
The old mast; something seems to have been ripped off those supports with considerable violence!
A view to the north with anchored stays in the foreground.
Bottom of new mast with feeder cables.
A view to the north west.
A view of the Sandale mast over Hilltop farm.
Looking west with Sandale mast in background.
Close up of Sandale mast.
Stays with a chain on a blue sky.
Back to TX Gallery index | TX main index
| | | |
| --- | --- | --- |
| mb21 by Mike Brown | Hosted by | |