UK Broadcast Transmission


THE TRANSMISSION GALLERY
CALDBECK
| | |
| --- | --- |
| Photos by Tim Fox | Page last updated: 2011-11-06 |
June 2007 - Work on the new mast begins
Tim writes:

Earlier this year I noticed that Caldbeck was on your "Hit List" for 2007 as a new mast is being built in readiness for Digital Switchover. As I was visiting family in Scotland, I decided to go and have a look at Caldbeck as is not too far off the M6. I was interested to see how the new mast was getting on although I had no idea what I would find when I got there.

It turned out the day I visited was one of those "horizontally polarised rain" days (it was the weekend when Hull was flooded) but I did manage to get some pictures during a lull in the rain. These were taken on 30-Jun-2007.
The top part of the old mast which now has the cylindrical set of panel antennas fitted, presumably for the current digital services.
The old mast and the partially constructed new mast nearby (I'll call them Caldbeck A and Caldbeck B from now on).

Caldbeck B looks much more substantial than Caldbeck A and is now up to about the first set of stays.
Caldbeck B and a number mast sections waiting to be hoisted up. I was intrigued to see long chains hanging down from some of the stays of Caldbeck A. I assume this is some sort of vibration damping. These hanging chains are clearly visible in this picture.

It is also possible to see some of the features discussed in the article on "Constructing Stayed Masts" on the website such as the "flying jib" on its carriage (painted blue) which is parked near the bottom of the mast.
In this picture it is also possible to see the circular flanges used to bolt the mast sections together. The sheep were the only living things I saw during my visit!
The bottom tapered section of the new mast tied down with temporary straps to the concrete plinth.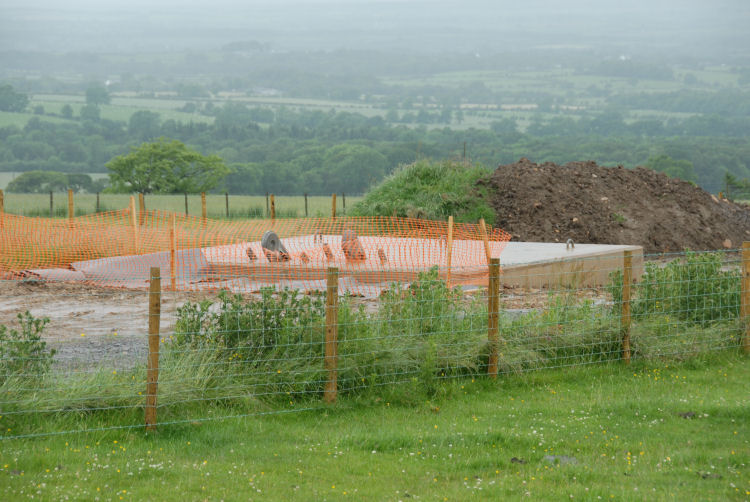 One of the newly constructed concrete anchor blocks ready to have some of the upper stays attached.

I plan to visit Caldbeck again later in the year so hopefully I will be able to send another update with further progress on Caldbeck B. I'll also keep my fingers crossed for better weather next time!
Back to TX Gallery index | TX main index
| | | |
| --- | --- | --- |
| mb21 by Mike Brown | Hosted by | |