UK Broadcast Transmission


THE TRANSMISSION GALLERY
DEINIOLEN
| | |
| --- | --- |
| Photos by Dan Glover | Page last updated: 2012-07-06 |
June 2012
Dan: " 'Find the FM tx antenna' it said. Finding the site was easy enough. There's no public access but the landowner agreed to a brief visit and suggested I take a moment to look at the view. He can't receive anything from the relay, apparently, and I think I understand why. 'Take the dog with you but beware of the sheep...' "

The relay is located on Pen y Bigil - which probably means something other than "big hill" - and is conveniently south of Deiniolen yet north of Llanberis. By using a back-to-back arrangement of panels both areas can be served from a single site
Initially this was as good as I could get. All the main features are visible (just): 2x2 panels for UHF, 2 x vertical dipoles for VHF, trough and VP log periodic for receive
Nearly there: let's get some detail now
Unusually the CCI sign has remained unaltered...
...the prevailing winds have pushed the new sign behind the bars on the gate
The panels are arranged north and south, however the Band II dipoles favour east and south
The dipoles appear to be mounted in front of a "skeleton" reflector
The Band II receive log is quite low on the tower
As elsewhere, the original building has been styled with local materials. Unfortunately the subsequent addition of various shades of grey and green boxes undermines the effort somewhat
I think this view was slightly west of north - the houses down below are probably not served from here
Looking south across to Llanberis and beyond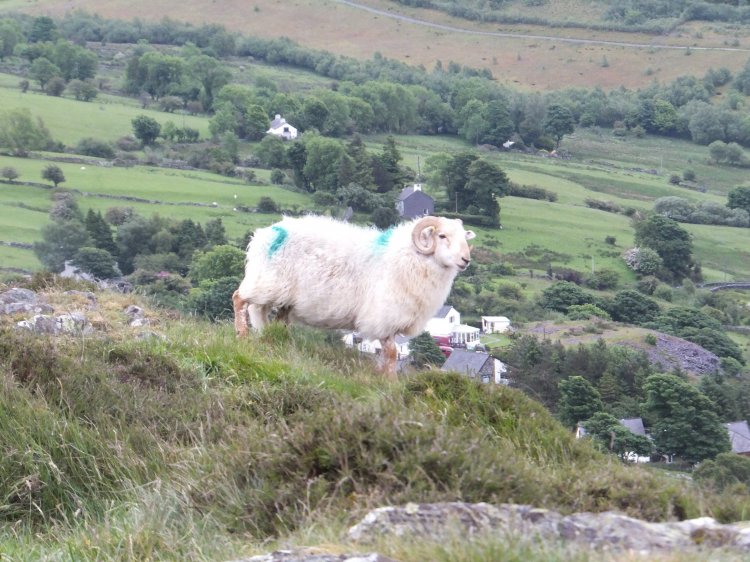 The dog was fascinated. I thought it best to keep away
Seen from a distance, perhaps the mixture of green and grey cabinets was a deliberate choice for the landscape?
Back to TX Gallery index | TX main index
| | | |
| --- | --- | --- |
| mb21 by Mike Brown | Hosted by | |