UK Broadcast Transmission


THE TRANSMISSION GALLERY
BELMONT
| | |
| --- | --- |
| Photos by Martin Brown | Page last updated: 2019-01-23 |
Local TV aerials - May 2015
Grimsby local TV launched on 26th November 2013.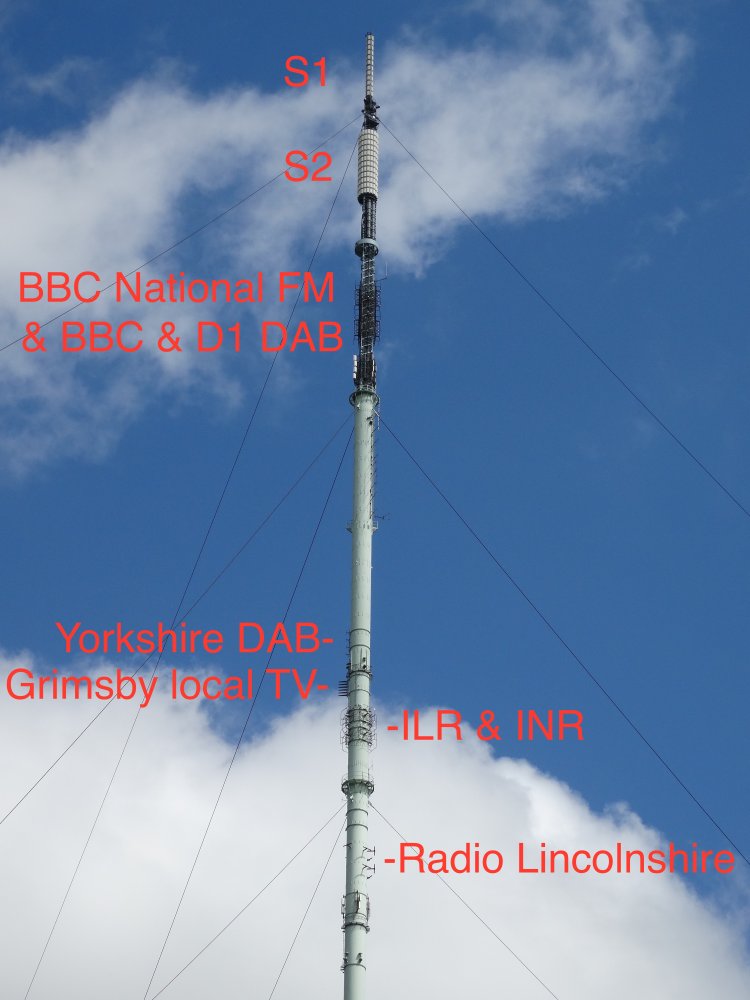 Top, the 4 tiers of the former Yorkshire DAB aerial, now closed.
Middle, 6 tiers of shrouded UHF logs for Grimsby local TV.
Lower, ILR and INR band II transmit aerial.
Grimsby local TV transmit aerials
INR (Classic FM) and ILR (Lincs FM) aerial.
The interleaved band II BBC National FM radio and band III DAB aerials.
The unusual arrangement of dipoles forming the Radio Lincolnshire transmit aerial. Here, looking at the west face of the mast, on the right can be seen two tiers of dipoles. The horizontal pairs are facing roughly south-east and south-west, and the vertical pair are facing roughly south. There is also a single horizontal dipole facing north-west, and you can just see the end of another horizontal dipole, which is facing roughly east-north-east.
Round to the north face of the mast and you can see the single tier horizontal dipoles, that face north-west and east-north-east.
Twin band II receive logs pointing at Holme Moss and the upper UHF receive trough pointing at Emley Moor.
Concrete blocks placed over one of the stay anchors.
Back to TX Gallery index | TX main index
| | | |
| --- | --- | --- |
| mb21 by Mike Brown | Hosted by | |