UK Broadcast Transmission


THE TRANSMISSION GALLERY
HANNINGTON
| | |
| --- | --- |
| Photos by Mark Carver | Page last updated: 2012-08-01 |
Post DSO Work
Hannington's DSO was completed on February 22nd 2012.

However, for a further two months, the COM muxes were still transmitted from what was called the D1 aerial. This was the pre DSO DTT aerial, that had a notch towards the east, to protect reception in Guildford. It was 8 tiers of panels, fixed to the west side of the mast, immediately below the cantilever main aerial.

The London region DSO on April 18th 2012, finally allowed Hannington's COMs to be transmitted from the main omni directional aerial (S1), finally making the D1 redundant.

This aperture is now to be used for the standby omni directional aerial, the S2.

Mark Carver returned to the site from May 25th, (and revisited until the end of July), when work was conducted to remove the D1 components, and install the S2.
Just the mounting frame remains, where the D1 aerial was.
Main feeders visible here, going straight through to the S1. To their left, what looks to be the old D1 feeders now open ended.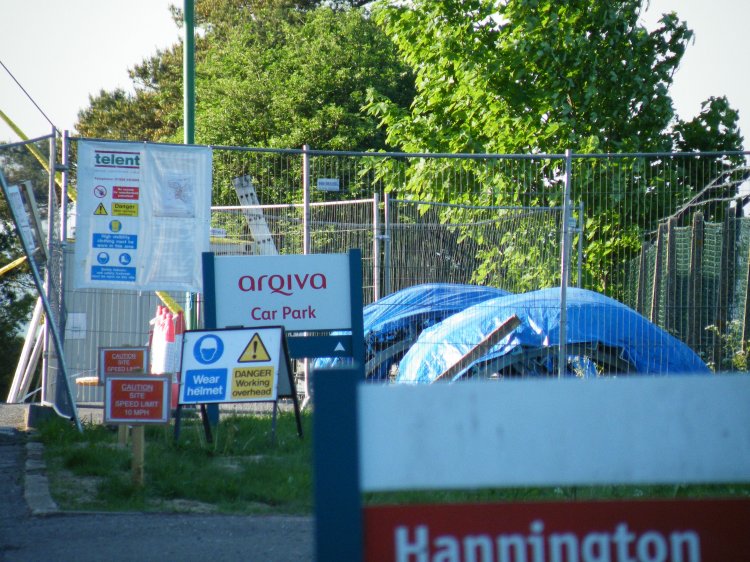 Most likely the S2 components, waiting to be elevated !
By June 2nd, framework gone, just the ladder left !
And new feeders have been delivered to site
July 1st 2012. No progress other than some power dividers inside the mast structure ?
July 23rd and the S2 is up
The new profile to get used to !
Two flags on the hoist cage !
Back to TX Gallery index | TX main index
| | | |
| --- | --- | --- |
| mb21 by Mike Brown | Hosted by | |