UK Broadcast Transmission


THE TRANSMISSION GALLERY
FREMONT POINT
| | |
| --- | --- |
| Photos by mb21, Andrew Rogers, "aj" and Neil White | Page last updated: 2020-11-03 |
Earlier Photos
Fremont Point (on the island of Jersey) is the TV transmitter which serves virtually the whole of the Channel Islands group with UHF television. VHF radio comes from the old BBC site at Les Platons.

Although the impressive 135m tower on the north of the island enables its signal to reach the other islands, Jersey's topography means its coverage of the main Channel Island is by no means total.

The tower was originally used for the start of ITV transmissions in the Midlands from Lichfield, it was taken down and moved here when the 1000 ft mast came into service at Lichfield in 1961. 405-line ITV (Channel Television), launched on 1st September 1962, on VHF channel 9. Closed 1984.

UHF transmissions commenced on 26th July 1976, with Channel 4 available from the launch on 2nd November 1982. Fremont Point was the last site to have BBC 1 & 2 converted to NICAM stereo (27th June 2002). DSO was on 17th November 2010.

ILR (Channel 103), launched on 25th October 1992.
(mb21)

---------------------------------------------------
For the introduction of colour transmissions to the Channel Islands, work begins on
the operation of raising the new UHF aerials to the top of the Fremont Point tower.
(mb21)

--------------------------------------------------

Below: These next two pictures from 2007 show new cellphone panel antennas for C&W (small 1800MHz) and Jersey Airtel-Vodafone (larger E-GSM).
(aj - we're not sure who aj is but if they'd like to contact us we'll credit the pictures appropriately)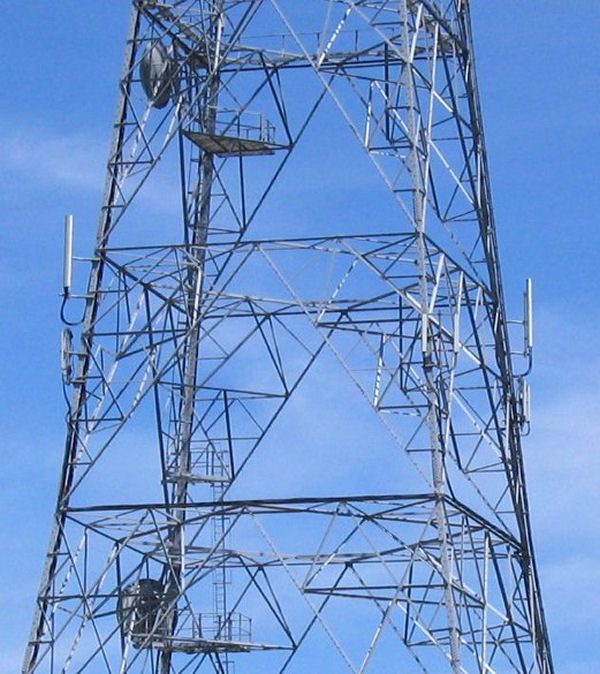 (aj)

---------------------------------------------------

Below: the remaining photos date from 2008
Gorey | Jersey (Trinity) | Les Platons | Les Touillets | St. Brelades | St. Helier
Back to TX Gallery index | TX main index
| | | |
| --- | --- | --- |
| mb21 by Mike Brown | Hosted by | |