UK Broadcast Transmission


THE TRANSMISSION GALLERY
HAVERFORDWEST
| | |
| --- | --- |
| Photos by Martin Brown | Page last updated: 2016-08-24 |
Solar panels and DAB added - August 2016
Since the previous pictures were taken of Haverfordwest, solar panels and DAB aerials have been added. I understand that these solar panels were installed late 2011 or early 2012.

BBC and Digital One DAB entered service on 30th June 2015.
On this sunny day they must be generating a fair amount of electricity.
The FM and DAB transmitting aerials
4 x Kathrein band III dipoles for DAB transmit.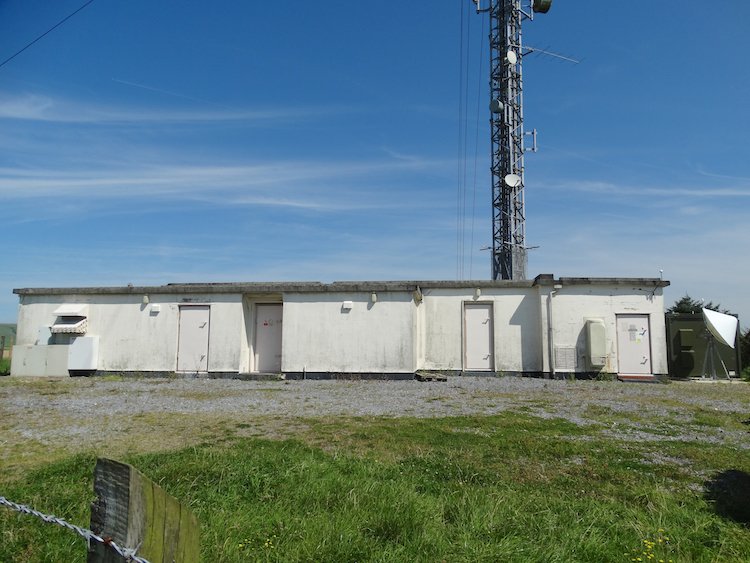 Satellite receive dish providing the DAB programme feed. The GPS aerial on the roof of the green cabin would indicated would indicated that the DAB transmitters are located within.
4 tiers of Alan Dick & Co circularly polarised band II panels for FM radio transmit. Both BBC & ILR.
The receive aerials. The bent 6 element band II Yagi on the left is for RBS from Carmel.
That Carmel Yagi. On the day of my visit there was a moderate breeze and this aerial was flapping around quite a bit.
UHF receive aerial pointing towards Presely.
Round to the shaded north side of the mast are the UHF transmit logs.
Cow helping to weigh down the stay anchor block.
Back to TX Gallery index | TX main index
| | | |
| --- | --- | --- |
| mb21 by Mike Brown | Hosted by | |