UK Broadcast Transmission


THE TRANSMISSION GALLERY
CRYSTAL PALACE
| | |
| --- | --- |
| Photos by Richard Greenleaf | Page last updated: 2015-09-28 |
December 2013 - new DAB and Local TV aerial installations.
Richard has kindly updated mb21 with pictures of the recent installations at his "local".
Above: Richard's composite picture of the western elevation of Crystal Palace tower, showing the recently installed London local TV aerial on the north-west corner, and the new Surrey local DAB aerials newly installed within the BBC National FM aperture.
The new Local TV MUX array at 115 m agl, with max erp on 330 deg ETN, and with a nominal 2 deg beam tilt.
The new arrays for the Surrey Local DAB service, 163 m agl. Richard remarks that it's interesting that the aerials seem to be cut for wide bandwidth rather than just the one mux.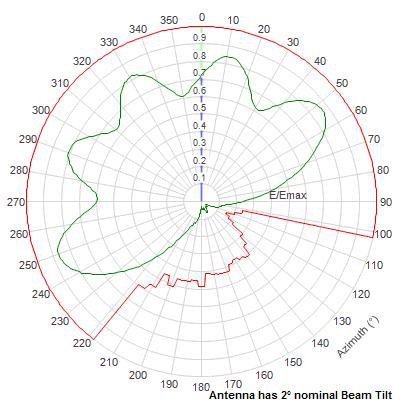 London local TV antenna radiation pattern in green.
Red outline is maximum permitted.
Taken from an OFCOM document.
Back to TX Gallery index | TX main index
| | | |
| --- | --- | --- |
| mb21 by Mike Brown | Hosted by | |