UK Broadcast Transmission


THE TRANSMISSION GALLERY
LETHANHILL
| | |
| --- | --- |
| Photos by Jack Richardson | Page last updated: 2021-09-05 |
New UHF transmit cylinder - August 2021
I noticed that this site was on the update list. Sort of on the way home and with a bit of time to kill I thought I'd pop over. The UHF transmit cylinder was replaced in June 2018 ahead of 700 MHz band clearance, which was on 5-Sep-2018.

I parked on Doonbank Crescent - on the Google Streetview photos from 2009 there's a housing estate, but it looks like it was demolished around 2019/2020 and levelled out. From here, there's a footpath over a former railway line, over some fields and up a rough track past a war memorial to the site. On the way back, said rough track had become populated by cows, meaning a diversion which thankfully got me back to where I started.

Lethanhill covers an area along the Doon Valley, where the signal from Darvel is blocked by hills to the north of the valley. The main two settlements in the area are the village of Patna and the market town of Dalmellington. I noticed Lethanhill puts in a decent signal along the A713 till Sandale takes over. I can highly recommend driving the A713 between Ayr and Castle Douglas. I didn't have time to stop, but I'd really like to revisit.
The band II FM radio transmit aerials comprised of two horizontal log periodics and a vertical dipole.
Looks like no change to the UHF receive aerials - 2 troughs on Darvel.
For BBC FM Radio, Lethanhill is a relay of Girvan (which in turn is a relay of Darvel) apart from Radio 4, which relays Divis. Lethanhill transmits Radio 4 on 94.9, Girvan on 95.3, which is probably too close to use as an RBL. Divis transmits Radio 4 on 96.0.
This 4 element band II yagi has been added since the earlier pictures. It appears to point in the same direction as the two band II Rx logs. It is possible that this aerial is now used to receive Radio 4 from Divis?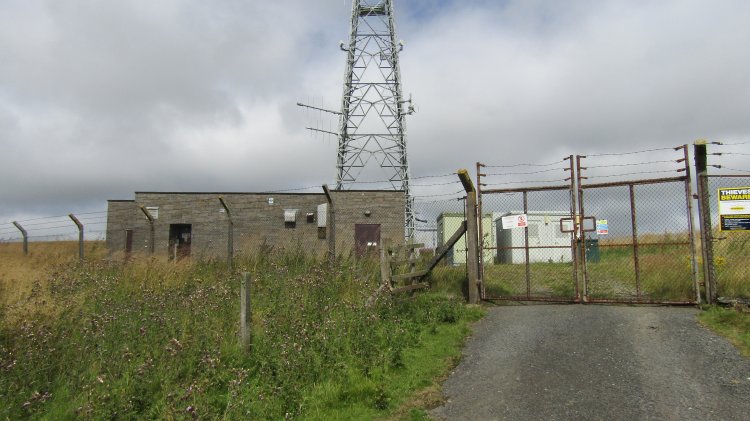 The security fencing looks a bit over the top for this rural site?
Brown Carrick Hill 10 miles away
On the walk up I noticed this... interesting seeing a UHF cylinder up close. The bottom makes quite a nice plant pot!
Not sure what 'The A' stands for?
Some more detail of the antennas looking through the hatch
Lethanhill and Burnfoothill were former mining villages now gone. It seems the villages were in a state of decay, and by 1954 the residents rehomed in new houses in Patna, in the valley below. All that stands now is a war memorial, the stone inscription above, and a tree plantation. It's well worth visiting, and more information can be found in the link below.
Brown Carrick Hill | Darvel | Divis A | Girvan
Back to TX Gallery index | TX main index
| | | |
| --- | --- | --- |
| mb21 by Mike Brown | Hosted by | |