UK Broadcast Transmission


THE TRANSMISSION GALLERY
PORTNAHAVEN
| | |
| --- | --- |
| Photos by Rob Shufflebotham | Page last updated: 2015-07-10 |
June 2015
Portnahaven, clinging onto the Southwest tip of Islay, is a small 2W relay serving the village of the same name. The site also provides mobile phone coverage
The site sits on a hilltop near the village...
...and is guarded enthusiastically by its neighbours
The tower, from as far back as I could stand without falling off the hilltop! It looks from the photo as if the tower has a serious lean, but I can assure concerned readers that it was straight up when I left!
4 yagis receive from Bowmore - this is a point-to-point link with another group of yagis at the "parent" site

One of the tx logs is just visible behind the top/left yagi

Editor's note: the SHF dish appears to be facing in the same direction - maybe this is now the primary link, with off-air backup?

Given the prevailing light, photographing the transmission stack on the other side proved tricky!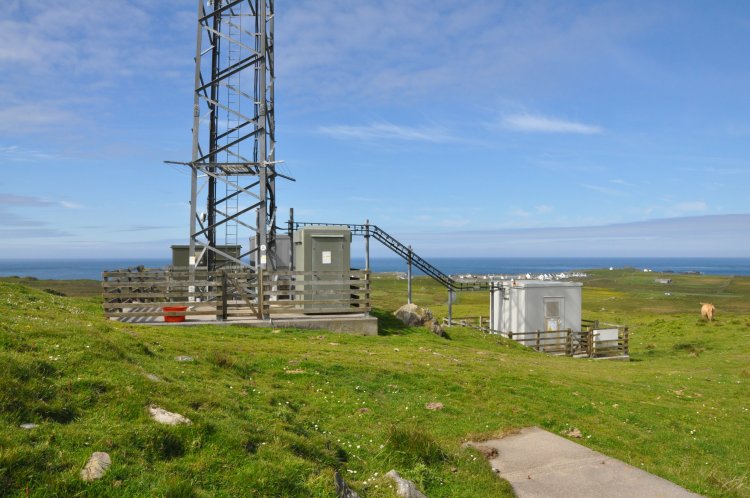 Cabinets - the relay itself is assumed to be the green enclosure near the centre of this image
A few meters east on the hilltop, are these two pads of concrete. I would think these would date from when the relay was first commissioned, before the days of mobile phone site share. A new mast clearly had to be added to take the weight of these antennas. The two pads are linked by a plastic tube, shallow buried in concrete

Editor's note: an old list of site data shows the site with a 17m lattice pole - as featured at many smaller relay sites
Target service area, the village of Portnahaven. Not many seem to use the relay, perhaps the locals all use indoor antennas? The antennas I did see where horizontally polarised and facing South West, suggesting they are possibly trying to receive the full freeview service from Limavady?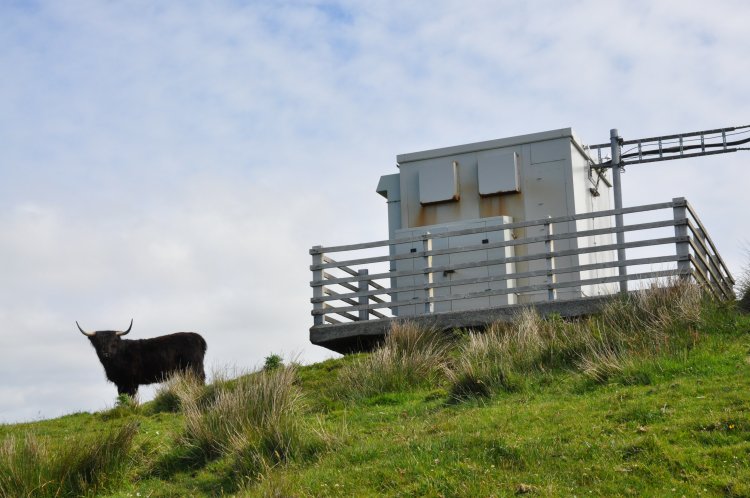 The locals were keen I didn't outstay my welcome....
Back to TX Gallery index | TX main index
| | | |
| --- | --- | --- |
| mb21 by Mike Brown | Hosted by | |