UK Broadcast Transmission


THE TRANSMISSION GALLERY
ST. MARKS
| | |
| --- | --- |
| Photos by James Pomfret | Page last updated: 2016-08-02 |
July 2006
St. Marks transmits with both vertical and horizontal polarisation. Curiously both components appear to be firing in the same direction as there are 4 vertical logs near the top of the tower, and 2 horizontal below them.

[Ed. I suspect that the reason for the lower powered horizontal beam is to serve the area closer to the site, which may otherwise suffer from CCI from Reigate. Further away, and down into the town, terrain screening means that Reigate CCI isn't an issue for the higher powered vertical component.]

Further down the tower there is a horizontal log which was for RBL of Crystal Palace. The vertical log is now used for RBL of Tunbridge Wells.

Originally a BBC landlord site, St. Marks entered service on 26th May 1983. The site was assigned as a Crystal Palace relay. Site number 101.26. While BBC 1 & 2 were RBL of Crystal Palace, ITV, and Channel 4 from August 1983, used Tunbridge Wells to provide TVS Southeast regional programming. BBC 1 & 2 were changed to relay Tunbridge Wells when the BBC Southeast region was created. (September 2001). DSO was on 30th May and 13th June 2012.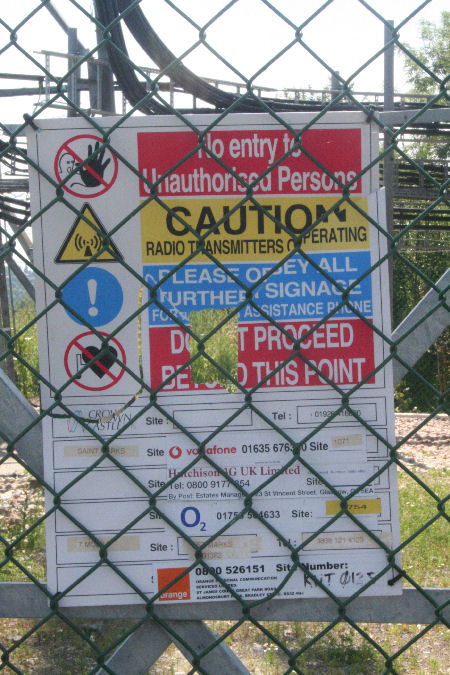 On the left is the vertical RBL log for Tunbridge Wells. On the right is the original RBL aerial for reception of Crystal Palace.
Crystal Palace | Tunbridge Wells
Back to TX Gallery index | TX main index
| | | |
| --- | --- | --- |
| mb21 by Mike Brown | Hosted by | |