UK Broadcast Transmission


THE TRANSMISSION GALLERY
| | |
| --- | --- |
| Photos by Robert Gordon and Dan Glover | Page last updated: 2011-06-13 |
NGR: NT263736
Maps: Google Bing (Ord Surv)
Site Height:
Structure Height: 2m
Digital TV:
BBC A: 35
D3&4: 34
BBC B: 33
BBC Radio:
Ind. National Radio:
Ind. Local Radio:
Digital Radio:
Edinburgh: 12D
Comments:
Canongate is a relay of Craigkelly. Pre B700 allocations: 55/50/59.
Updated June 2011
Robert submitted the original photos with the comments: "We found the Canongate relay. I happened to look up at the roof of a building and spied a log periodic, then a second!

I couldn't see the receive antenna but I assume it's a horizontally polarised log pointing at Craigkelly. There are a few buildings in the area with aerials pointing towards the relay but most are tall enough to just get Craigkelly with high gain aerials."

Dan Glover visited in August 2009, found some more logs, sent off the photos, but felt there was still something missing. A further visit to Edinburgh in June 2011 has finally allowed the detail of the site to be completed.
The site is on the roof of a six-storey block from the 1960s, now part of the University of Edinburgh
Robert's original photo is from Holyrood Road, looking roughly north.
On the south east corner of the building is a single VP log.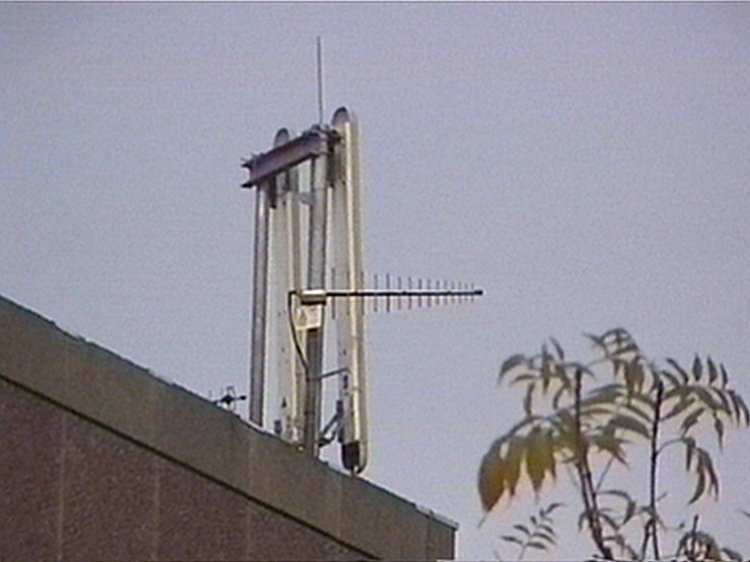 Robert's text suggests he possibly also saw this other VP log, which is about half way along the roof but wasn't previously shown in detail. Is there an element missing?
The story continues as we go round the corner of the building into St John St - note the two HP logs on the right. This site also transmits a horizontal component in a northeasterly direction
Receive log on the left. Note the small plate attached to the pole supporting the tx antenna...
No more broadcast antennas found at this end.
Nothing round the back except the VP tx log identified earlier. This cropped shot confirms that each transmit antenna carries a warning notice.
Back to TX Gallery index | TX main index
| | | |
| --- | --- | --- |
| mb21 by Mike Brown | Hosted by | |