UK Broadcast Transmission


THE TRANSMISSION GALLERY
| | |
| --- | --- |
| Photos by Peter Lonsdale and Mike Smith | Page last updated: 2019-04-17 |
NGR: SO273726
Maps: Google Bing (Ord Surv)
Site Height:
Structure Height: 35m
Digital TV:
BBC A: 41
D3&4: 44
BBC B: 47
BBC Radio:
Ind. National Radio:
Ind. Local Radio:
Digital Radio:
Comments:
Garth Hill is a relay of Ridge Hill. Pre-B700 allocations: 53/60/57.
Garth Hill, a low power relay of Ridge Hill serving the rather lovely and historic town of Knighton, which is in Wales.

Transmissions from Garth Hill are vertically polarised (from the curved panel aerials) and horizontally polarised (from the logs). This IBA landlord site originally entered service transmitting vertical polarisation only, on the 26th March 1976. Channel 4 was added in August 1986. Ten years latter the horizontal beam was added to feed the Knucklas relay, which lies about 2 km to the northwest, on the other side of the Teme valley.
This picture from Peter Lonsdale was taken shortly after Garth Hill entered service in 1976. The rest of the pictures were taken more recently by Mike Smith.
The curved panel aerials transmit roughly southeast towards Knighton, and northwest along the
Teme Valley. The two horizontal log periodics provide the programme feed to the Knucklas relay.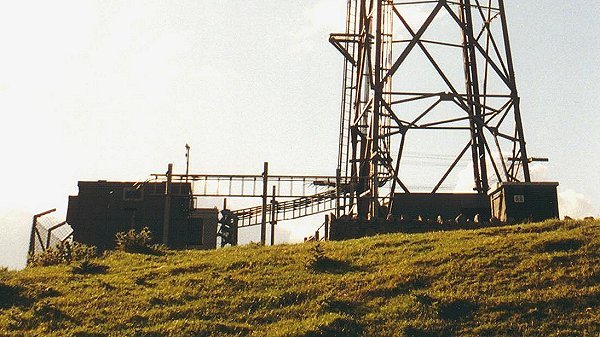 Back to TX Gallery index | TX main index
| | | |
| --- | --- | --- |
| mb21 by Mike Brown | Hosted by | |