UK Broadcast Transmission


THE TRANSMISSION GALLERY
| | |
| --- | --- |
| Photos by Sam Jones | Page last updated: 2023-05-31 |
NGR: NO634404
Maps: Google Bing (Ord Surv)
Site Height: 19m
Structure Height:
Digital TV:
National Radio:
Local Radio:
Radio North Angus: 96.6
Digital Radio:
Comments:
Show historic services
Photos from 31'st May 2023
Radio North Angus's main transmitter is located at Arbroath Infirmary. Making a change from the rest of the sites, this one transmits on a Commercial Licence rather than a RSL licence as is the case with Brechin, Carnoustie, Forfar, Montrose and Kirriemuir. Arbroath Infirmary is a good site in relation to the surrounding area. Placed high up on a hill, this site provides ample coverage in the town and the surrounding villages. The infirmary also houses the two main studios in the old original building that provide the main output for most shows.
Showing the small elevation change from the road. The TX antennas are the 2 vertical end fed dipoles to the left of the photo. They are arranged as main and reserve. There are 2 transmitters inside and a SBS changeover switch. Also for completeness there is from left to right 1 solo tv antenna, 2 TV antennas stacked on top of each other. and then there appears to be the remains of a old 405 line antenna and then a low band paging antenna for the staff.
The 2 antennas close up. The transmitters are not to far away from them allowing for a nice short run to reduce feeder loss.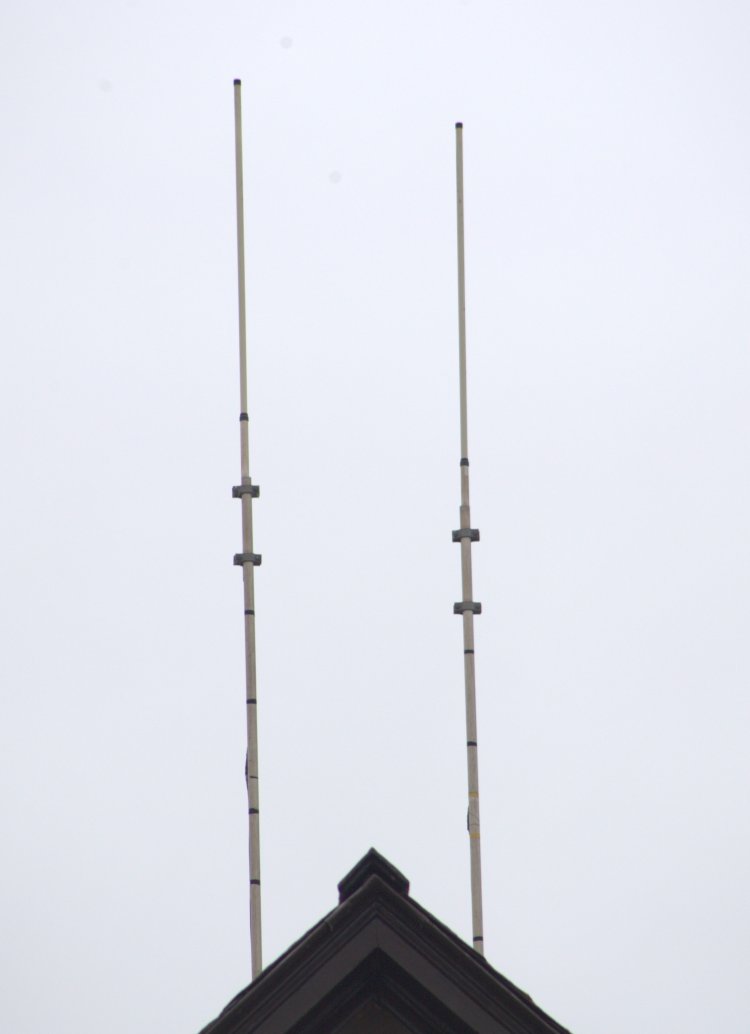 Drone shot showing the antennas on the white square in the centre. All of the radio station is located in the old building shown in the foreground of the photo
Drone photo showing the elevation from the main road (drone is at 51M/167ft in the photo for reference) the infirmary is the building on the left with the green/blue roof
The front of the old building. This was re-build between 1913-1916 as a replacement to the former building from the 1830's. From this angle you can also see the TX antennas showing they are mounted fairly central in the building
Brechin (High School) | Carnoustie High School | Montrose Academy | Whitehills Health Centre
Back to TX Gallery index | TX main index
| | | |
| --- | --- | --- |
| mb21 by Mike Brown | Hosted by | |