UK Broadcast Transmission


THE TRANSMISSION GALLERY
CROYDON
| | |
| --- | --- |
| Photos by Martin Brown | Page last updated: 2019-06-08 |
New UHF aerial now installed
On the 18th November 2014, the old UHF stack was removed by helicopter lift, and replaced with a new disaster recovery (for Crystal Palace), UHF aerial. Once operational, this new aerial will permit Croydon to transmit the 6 main DTT multiplexes, with an ERP only 3 dB's lower than Crystal Palace.

There is a link to a YouTube video from "The Bridge Networks North", who managed the project, at the foot of this page, with pictures of the helicopter lift.

Also below is Julie Aylward's video of the helilift on Youtube. Julie was an engineer based at Croydon for many years.
The 2 square boxes above the new UHF aerial stack are understood to be dampers, to reduce oscillations of the structure.

Dave Thickett kindly supplied the following on this arrangement:

I can only speculate as this antenna was provided by a competitor but . . . . in other places, we have designed liquid tuned dampers to fit on top of an antenna that could oscillate due to the combined dynamic effect of a long cantilever on top of a mast or tower that itself oscillates.

The mast and antenna combined will have a resonant frequency of a few Hz plus various harmonics and the width and depth of the water tanks, plus the 'baffles' inside are set to provide a 'sloshing frequency' that absorbs energy from the tower oscillation, reducing its amplitude. I'm sure we have provided some of the 16 Lambda cardioid antennas with built in liquid dampers. I think the concept of vortex induced vibration is well documented on the web and water tanks are one way to reduce these effects.
The old Channel 5 aerial. Top part of the old stack.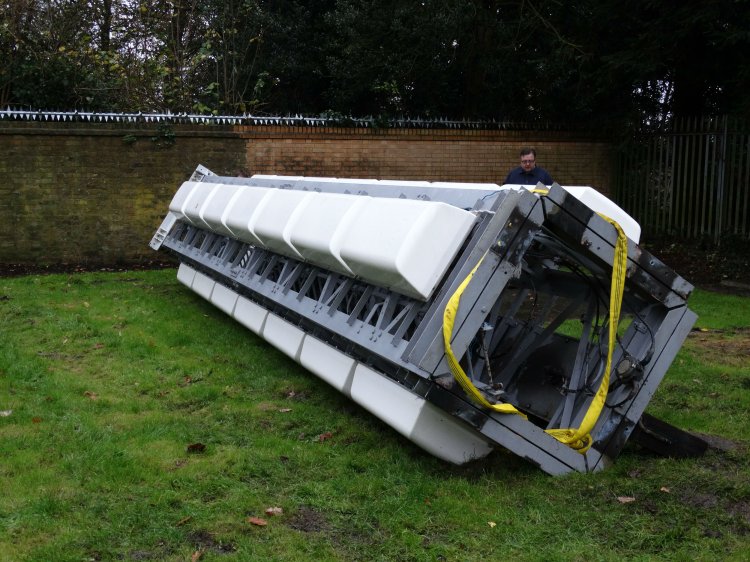 The old analogue DR aerial. Lower part of the old stack.
Six tiers of crossed shrouded UHF logs for the London local TV mux. The aerials face south and east and operates as a single frequency network with the local TV transmissions from Crystal Palace.
The Bridge Networks North YouTube video
Julie Aylward's video of the helilift replacement of the UHF stack

Back to TX Gallery index | TX main index
| | | |
| --- | --- | --- |
| mb21 by Mike Brown | Hosted by | |