UK Broadcast Transmission


THE TRANSMISSION GALLERY
BARROW
| | |
| --- | --- |
| Photos by Peter Bigwood | Page last updated: 2014-02-14 |
Apparently the transmitter at Barrow kept tripping out at around dusk each day but by the time the engineers arrived there was no evident cause. So, they laid in wait...

At around dusk huge flocks of starlings collected on the top wires on their way to roost. This upset the electrical balance of the antenna sufficiently to trip the transmitter.

The solution? You can just see two large plastic owls atop each support mast.

Isn't nature wonderful?

Barrow first entered service with the North Home Service on 1484 kHz in October 1951. This frequency was changed to 1052 kHz on 2nd September 1972 on what was now Radio 4. On 23rd November 1978, 1052 kHz was transferred to Radio 1 as 1053 kHz and a new transmitter for Radio 2 was added on 693 kHz. Radio Cumbria launched on 25th May 1982 on 837 kHz. On 27th August 1990, 693 kHz was re-assigned to Radio 5. Radio 1 closed on 30th June 1994.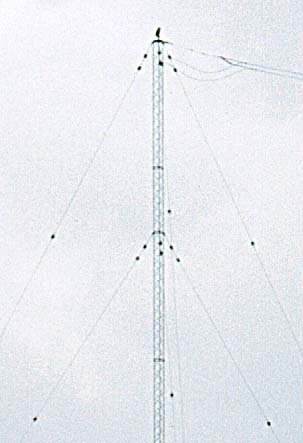 Back to TX Gallery index | TX main index
| | | |
| --- | --- | --- |
| mb21 by Mike Brown | Hosted by | |