UK Broadcast Transmission


THE TRANSMISSION GALLERY
| | |
| --- | --- |
| Photos by Mark Carver, Mike Smith and David Jones | Page last updated: 2014-01-01 |
| | |
| --- | --- |
| Plumer Barracks (Plymouth MF) | Devon |
NGR: SX490589
Maps: Google Bing (Ord Surv)
Site Height:
Structure Height:
Digital TV:
BBC Radio:
Radio 4: 774 kHz
Ind. National Radio:
Talk Sport: 1053 kHz
Ind. Local Radio:
Smooth Radio: 1152kHz
Digital Radio:
Comments:
Used to transmit BBC Radio Devon on 855 kHz; after a period of DRM trials this frequency at Plymouth was closed. Absolute Radio on 1215 kHz closed late May 2018.
1946 Light & Third Programmes in service on 1149 kHz and 1474 kHz.
15th March 1950, frequencies were changed to 1214 kHz and 1546 kHz.
30th September 1967, 1214 kHz was re-assigned to Radio 1.
2nd September 1972, Radio 3 frequency changed to 647 kHz.
1974 Radio 4 (South-West) in service on 1457 kHz.
19th May 1975 ILR Plymouth (Plymouth Sound) launched on 1151 kHz.
23rd November 1978 Radio 2 in service on 693 kHz, Radio 3 frequency changed to 1215 kHz, Radio 4 SW frequency changed to 855 kHz, ILR frequency changed to 1152 kHz.
1980 Radio 2, 693 kHz closed.
19th April 1982 Radio 4 (national) in service on 774 kHz.
17th January 1983 Radio Devon launched on 855 kHz.
28th February 1992 Radio 3, 1215 kHz closed.
30th April 1993 INR 2 (Virgin Radio) launched on 1215 kHz.
14th February 1995 INR 3 (Talk Radio) launched on 1053 kHz.
1st April 2007 Radio Devon, 855 kHz closed.
23rd April 2007 DRM trial starts on 855 kHz.
31st October 2008 DRM trial closed on 855 kHz.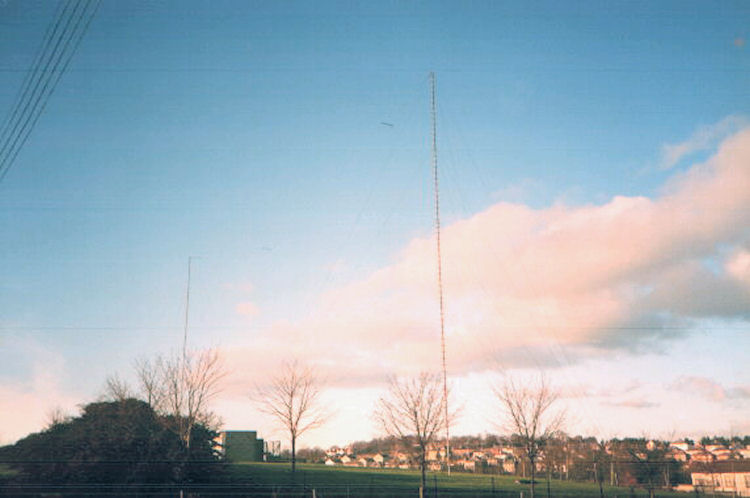 Plumer Barracks is situated between some residential housing and the B3413. Mike Smith, who took photos 2 & 3, comments: "It's difficult to get a nice photo, especially on this rainy day!"

The site once carried the south-west regional opt-out of R4 on 855 KHz before the start of BBC Radio Devon on the same frequency. The site also once carried BBC R2 on 693 KHz before Start Point came into service in 1980.

Following the opening of an FM service of BBC Radio Devon for Plymouth on 95.7 MHz from Plympton on 14th June 2005, the BBC closed the AM service on 855kHz on 1st April 2007. From 23rd April 2007 to 31st October 2008 the 855 kHz frequency was then used to test a DRM service. Project Mayflower. Links to 2 reports at foot of this page.


The DRM Trial Final Report (April 2009)
The Plymouth DRM Trial. Long term reception results (Feb 2009)

Back to TX Gallery index | TX main index
| | | |
| --- | --- | --- |
| mb21 by Mike Brown | Hosted by | |