UK Broadcast Transmission


THE TRANSMISSION GALLERY
BEBINGTON
| | |
| --- | --- |
| Photos by Simon Dunning and Dan Glover | Page last updated: 2015-04-04 |
Updated April 2013
Simon: "The AM station for Magic 1548 can be found on the site of the old Bromborough Power Station (Thermal Road). I tried a shot but I don't have an optical zoom and it's not possible to get any closer (unless you work at Lubrizol!)."

Dan: "My June 2012 attempt was not the best and the Update List has continued to say 'Detailed photos needed'. Suspect this may be Mission Impossible without privileged access"
As Simon indicated, there is no access from the adjacent main road - but soft ground is probably a good thing on an MF site.
Late on a dull day in June 2012 - yet I had a theory this was not a simple mast radiator...
April 2013: more light and the trees not yet in leaf, but the vegetation in the foreground is starting to block the view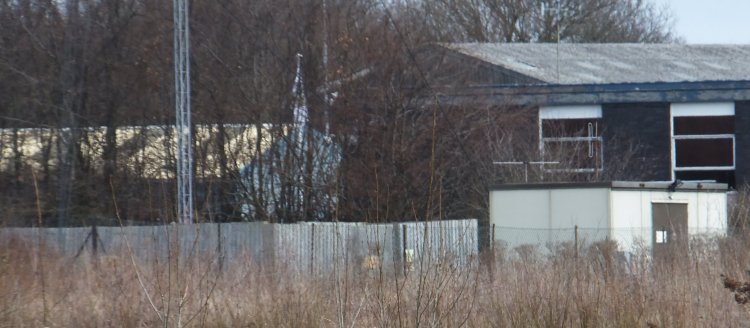 The transmitter "hall" is the white building - which appears to have at least one Band II antenna on the roof. Possibly an RBS arrangement since Radio City was once carried on 1548kHz (from a previous site at Rainford) and remains part of the same group? The base of the mast is surrounded by a close-boarded fence
Looking at the top section the inner sections of the stays are electrically bonded to the mast (with insulators part-way down) and the lower stays are insulated or made of a non-conducting material
Back to TX Gallery index | TX main index
| | | |
| --- | --- | --- |
| mb21 by Mike Brown | Hosted by | |