UK Broadcast Transmission


THE TRANSMISSION GALLERY
NEWTON BARROW
| | |
| --- | --- |
| Photos by Dan Glover | Page last updated: 2015-04-05 |
August 2013
I visited without the more recent knowledge of the unusual arrangements here - so what now turns out to be the Band II array wasn't a particular focus of my attention

On approach this looks very much like a former "Home Office" site - the twin towers, 6-element yagis and slot panels are typical. Although some "pruning" has been undertaken there hasn't been a wholesale clearance of the former police and fire antennas as at other sites such as Ilmington

On the day of my visit the prime suspect for the broadcast antenna was the ground plane just visible at the top of the hight-hand tower - the only obvious option to produce a vertically polarised signal with an omnidirectional pattern
A number of ex-Home Office sites passed to Arqiva by way of NTL which acquired DTELS back in 1994
The details on an electricity pole nearby confirm the site's history
Unusually the site hasn't acquired the usual collection of enclosures for the various mobile phone networks - I wonder if coverage from here is "too good"?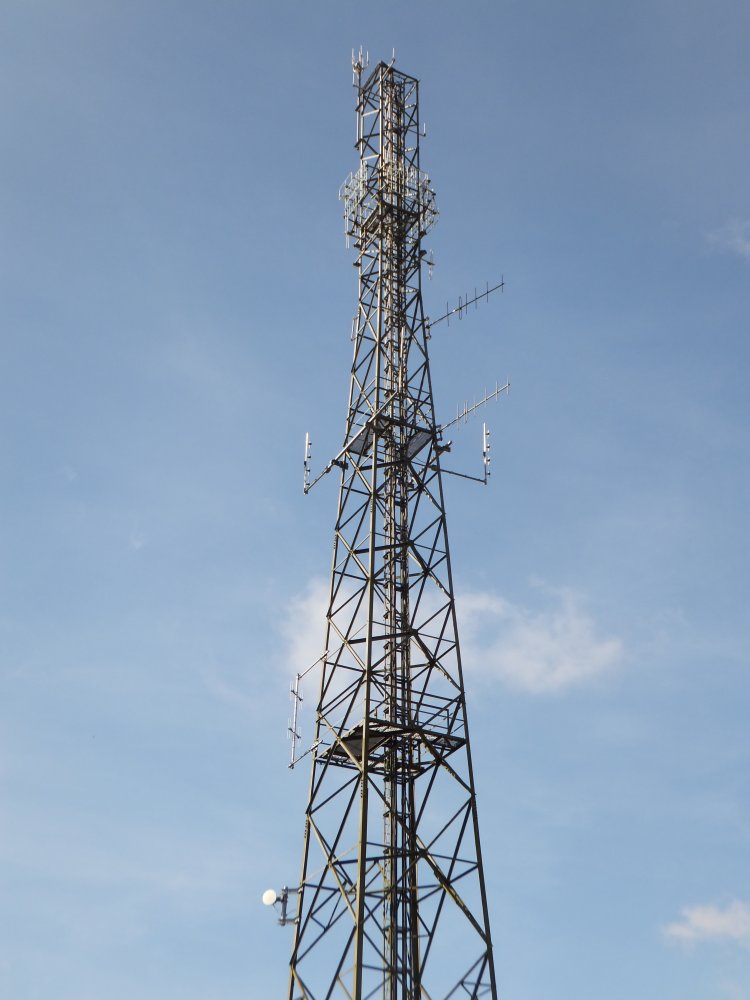 And so begins the search for something which would be suitable to radiate 103.5 MHz with vertical polarisation and omnidirectional pattern

The panels are skeleton slots operating around 140/150 MHz - the police radio scheme from the late 1980s to mid-2000s used hundreds of these. There's nothing else particularly obvious which fits the requirement for BBC Wiltshire
On the other tower, more ex-police antennas and a possible suspect in the ground plane at the top?
It turns out not, as clarified by Martin Brown some time after my visit

That's a solar-powered Aircraft Warning Light, by the way

Below the second tier of slots is an arrangement of 8 dipoles, with screening bars behind...
...designed to produce an omnidirectional pattern from a square tower - I wonder if there was a particular need for a "perfect" pattern here, when four Band II panels might have been somewhat easier to install?
Back to TX Gallery index | TX main index
| | | |
| --- | --- | --- |
| mb21 by Mike Brown | Hosted by | |