UK Broadcast Transmission


THE TRANSMISSION GALLERY
| | |
| --- | --- |
| Photos by John P Martin | Page last updated: 2022-03-28 |
NGR: NN552566
Maps: Google Bing (Ord Surv)
Site Height: 208m
Structure Height:
Digital TV:
BBC Radio:
Ind. National Radio:
Ind. Local Radio:
Digital Radio:
Comments:
Eilean Mor - the Link site for a pair of self-helps on Loch Rannoch. Photos taken March 2022
Loch Rannoch has two self-helps listed in pre-DSO information and, judging from the maps, one was a link site feeding the other. Both are approx 11km west of Kinloch Rannoch but on opposite shores of the loch. The target population was about 90.
Eilean Mor is on the south shore of the west end of Loch Rannoch and was a transposer RBL of Tummel Bridge, receiving channels 39, 42, 45, 49 and transmitting channels 62, 64, 66, 68 with a power of 5W ERP. Grid reference is NN 55265 56638 and there is line-of sight to Tummel Bridge in the east. Site height: approx 208m AOD; mast height 2-3m.

The Eilean Mor installation on the south shore of Loch Rannoch
One has to wonder if it ever flooded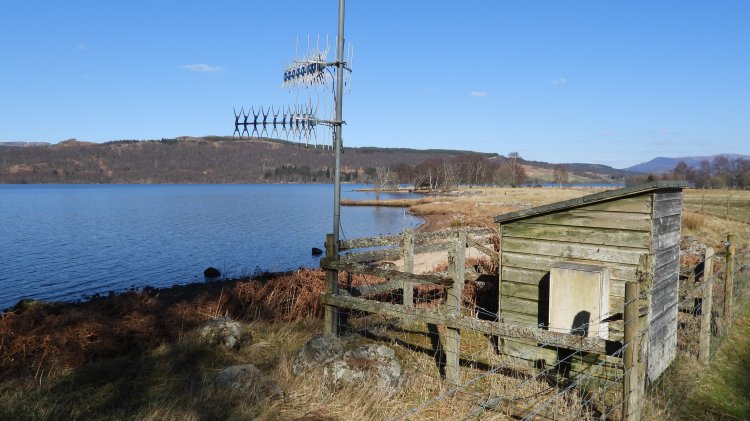 Incoming mains box on the side of the hut plus one mast with two domestic Yagis. Unfortunately, the hut was locked closed so no chance of seeing what was inside.
It is quite clear that the top Yagi has slipped down the mast a bit and also rotated slightly to the east. I believe that these Yagis were a stacked transmit array as they both point (more or less) across the loch to the listed child site at Talladh-a-Beithe which is 1.5km across the water. Does anyone know when these wishbone directors starting appearing on Yagis? It might help to date the installation.
The two Yagis are fed from a mast-head splitter. This appears to be based on a ferrite-ring transformer which you can just see below the 75ohm resistor. It looks a bit too domestic to handle transmitter power but with an ERP of 5W and assuming a total aerial gain of about 18dB, then the actual RF input power would be about 80mW.
Looking east back towards the parent Tx at Tummel Bridge. The Rx aerial would, therefore, have been at right-angles to the Tx pair.
About 3 metres from the equipment hut, a coax emerges from the turf. This, presumably, would have been the feed from the Rx aerial which has since disappeared. Rabbits ate it!
The site is guarded by two geese with a combined ERP of about 15W (acoustic) but neither of them had the key to the hut.
Talla-a-Bheithe (self-help) | Tummel Bridge
Back to TX Gallery index | TX main index
| | | |
| --- | --- | --- |
| mb21 by Mike Brown | Hosted by | |