UK Broadcast Transmission


THE TRANSMISSION GALLERY
| | |
| --- | --- |
| Photos by Ben Smith (archive photograph from BT Heritage) | Page last updated: 2020-06-16 |
NGR: TR160389
Maps: Google Bing (Ord Surv)
Site Height:
Structure Height:
Digital TV:
BBC Radio:
Ind. National Radio:
Ind. Local Radio:
Digital Radio:
Kent: 11C
Comments:
Also known as BT Tolsford Hill
June 2016 (and June 1969 and December 1975)
The Etchinghill DAB TX is installed on the concrete BT tower close to the top of Tolsford Hill (which is the name by which the site had been known since the 1950s - see below)

The tower is unmistakable in the local landscape and, high on the North Downs, is visible for some distance
The TX dipoles are on the Northern 'leg' of the tower, and provide DAB signal coverage along the Elham Valley, which is otherwise screened from Dover, Folkestone (Creteway Down) and Chartham transmitters by terrain.
To tailor the coverage the dipoles are mounted in front of screening panels - and are only about half way up the tower
The main structure is an odd wedge shape designed to provide maximum space to mount SHF dish antennas facing in two specific directions...
...traces of the mountings can still be seen
The building seems to be from an earlier period...
...and there are concrete stay blocks around the site
These large SHF dishes may be waiting to go up but more likely have come down
Ben comments: "At 1.2 kW it's the most powerful of the Kent Local DAB TX's. It shows, too - I can receive this TX from as far away as Stourmouth!"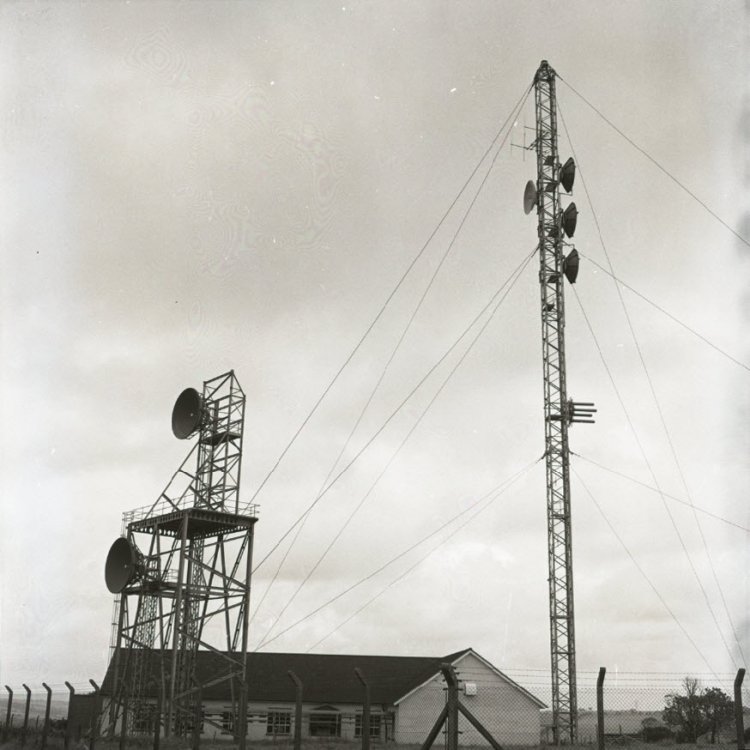 June 1969 - before concrete towers and Digital radio.

The site, as "Tolsford Hill" was initially established to provide a cross-channel television and telephony link, opening in 1959. For many years there was a BBC presence since conversion between 819 and 405-line systems was carried out here - using optical equipment (monitor and camera). The original structure, on the right, was a 200 ft mast carrying three SHF dishes facing France. The "tubes" lower down were apparently shrouded yagis for a "supervisory" link at UHF.

Originally the link to and from London was via cable but an SHF route was completed by the Post Office in the late 1960s, using the temporary structure on the left to link via Flimwell (and from there via Fairseat to the London GPO Tower). The left-facing dish on the mast may have been for some interim link and at times the BBC had provided temporary SHF links as a way to overcome limitations with the cable route. There appear to be Band I yagis on the mast - possibly another interim arrangement to allow Crystal Palace to be used as a source?

The current concrete tower dates from 1975 and allowed for an increase in the number of dish antennas to provide additional capacity. The original building - slightly extended - remains in use. It is understood the site provided local feeds to Dover (and Swingate) using various permutations of cable and SHF links at different times but the main broadcast connection was, of course, the EBU ("Eurovision") link.

[BT Archives photo reference TCB 473/P 10264]


The above image is Copyright BT Heritage, licensed under a Creative Commons License and reproduced under the following terms
Picture from Wireless World, December 1975 showing both
the old mast and recently completed concrete tower.
Back to TX Gallery index | TX main index
| | | |
| --- | --- | --- |
| mb21 by Mike Brown | Hosted by | |