UK Broadcast Transmission


THE TRANSMISSION GALLERY
DELPH
| | |
| --- | --- |
| Photos by Harry Broughton | Page last updated: 2016-07-20 |
Photographs taken June 2016
Harry writes: I decided to go and take some images of my local transmitter and post them to mb21, given the original photos were taken some time ago. The mast is accessed by a somewhat makeshift track running through a field which I had planned to go down to take some detailed pictures, but this plan was scrapped considering the local farmer with his tractor who was perched right in the middle of the field seemed to give me the impression it was best not to continue any further!
I'm not too sure of when the transmitter entered service, although the metalwork of the mast appeared to be relatively 'shiny' and modern, hazard a guess at 20-25 years old (early 1990's).
The mast from a distance of around a mile or so, showing its suitably elevated position in the midst of the Pennine valleys, allowing decent views of the village. You can see here why the local terrain shadows both Winter Hill and the nearby Saddleworth relay; according to my research and knowledge, Emley Moor offers fair coverage to the area especially in comparison to Winter Hill; however Yorkshire isn't the usual region of choice for the Saddleworth area. That said, the boundary changes in 1974 moving the area out of Yorkshire and into Greater Manchester is still frowned upon by the locals even to this day.

The hills in the background are part of the relatively well known Saddleworth Moor.
A general view of the mast; you can see that since the previous photos in the gallery, not much has changed. Part of the mast has gained some more transmitting equipment, but some has been removed, especially at the top of the structure.

The odd looking horizontal bar remains with its relatively odd 'unfinished' appearance, its purpose remains a bit of a mystery.
A view from another angle; you may just about notice the receive aerial towards the middle lower part of the mast (on the other side from the horizontal bar) getting the feed from nearby relay Saddleworth around two miles to the South; direct reception from Winter Hill would probably be just about possible but rather pointless considering there is a major high power relay a few miles away.
The transmit aerials beam toward the West and South of the village which are shielded from Saddleworth (and Winter Hill) by typical steep high Pennine Hills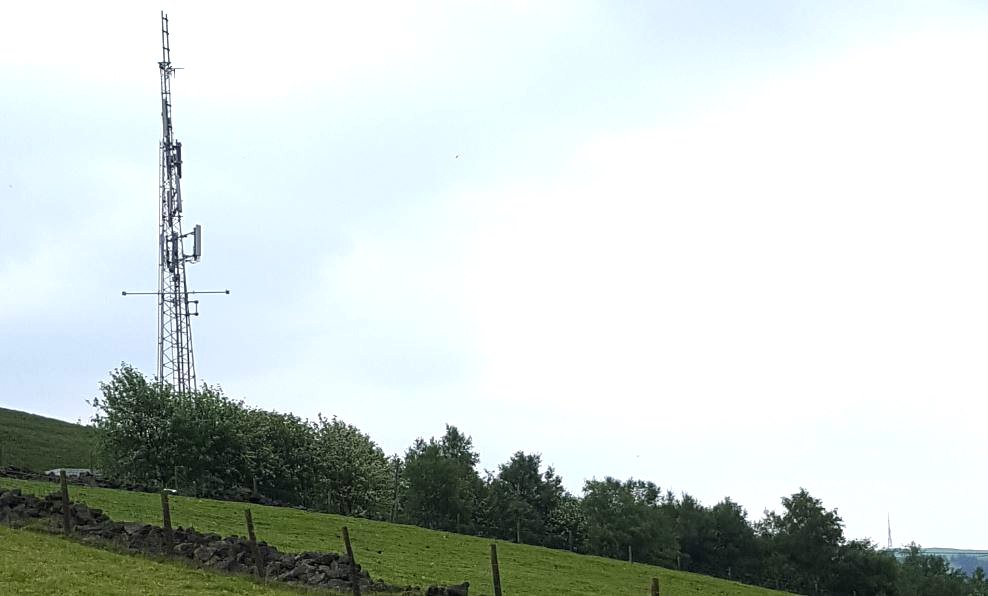 The final photo shows the mast in the foreground and in the background to the right of the picture is the Saddleworth relay around two miles or so away. The location of the high power Saddleworth relay (which also serves many areas of Delph) makes it the most suitable feed.
Back to TX Gallery index | TX main index
| | | |
| --- | --- | --- |
| mb21 by Mike Brown | Hosted by | |