UK Broadcast Transmission


THE TRANSMISSION GALLERY
REIGATE
| | |
| --- | --- |
| Photos by Martin Briscoe | Page last updated: 2017-10-28 |
Early photos - 1970s?
Martin commented: "Reigate was a rather strange site. The transmitters were in a basement of the water tower, at the rear of the room was a pipe several feet in diameter carrying the output from the tank above. The transposers and amplifiers were also a strange mixture of different types".

(Text added May 2016)
Former BBC Engineer comments on the transmission equipment used at Reigate:

I'm reasonably certain that the original BBC2 amplifier was a Racal 1kW using a Klystron. The BBC1 transmitter is more problematical, but I believe it was a MEL (Mullard Electronics Limited)* which was originally Guildford BBC2 and was transferred to Reigate (re-tuned, of course) when Guildford was re-engineered with Pye equipment for both services.

I was on attachment to Heathfield at the time and spent a fortnight at Guildford "baby sitting" the new Pye gear. I remember, the MEL was a bit of a nightmare, so they moved it to CP"s closest relay so the team could attend quickly!

*Became part of Thorn EMI and now part of Thales Group Ltd.

(Text added by MB21 editors).
Further research shows the current "broadcast" structure - a 60m tower - dates from after 1994 and the guyed mast above the reservoir was replaced by a second tower after 1988. The current building forms part of the 1994 development.
The "BBC" tower on the left is as described in the research paper - twin troughs and cylinder - with very little else on the tower

It looks like the shroud over the transmit array may be in two sections, with a join half way up?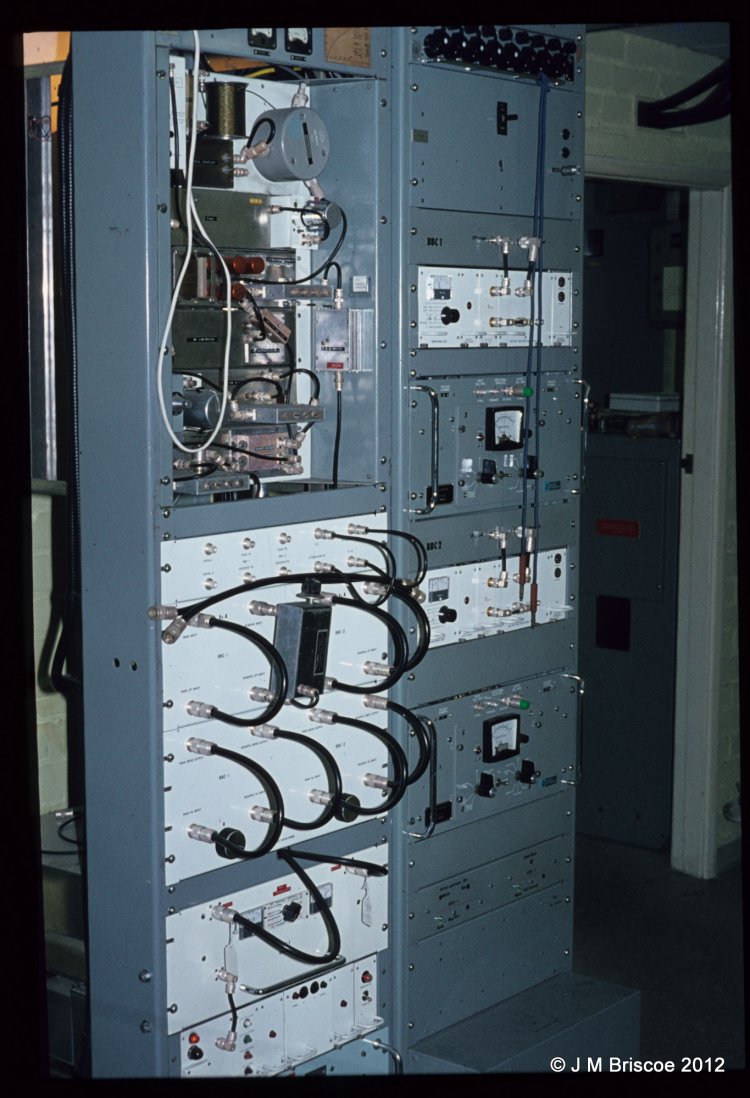 BBC designed UHF transposer at the left and two Plessey(?) UHF transposers at the right.
BBC1 amplifier. MEL - Mullard Electronics Ltd.
BBC2 amplifier. Racal 1kw Klystron.
Reigate UHF Relay Station: Summary of Installation (BBC Research Paper 1967-20)

Back to TX Gallery index | TX main index
| | | |
| --- | --- | --- |
| mb21 by Mike Brown | Hosted by | |