UK Broadcast Transmission


THE TRANSMISSION GALLERY
WENVOE
| | |
| --- | --- |
| Photos by TCPD | Page last updated: 2015-01-20 |
Wenvoe 1987 - UHF slot antenna
Pictures from 1987 showing the design of the slot panels used in the Wenvoe rebuild from that era.

TCPD writes:

Wenvoe would be one of the last antennas to be built using the EMIslot panels.

Although this system had been widely used it was superseded by the Broadband Panels.

In practice, a slightly different version of the EMIslot panel had to be developed for almost every particular installation in order to optimise performance for the required channels and mechanical configuration. The internal stripline controls the phase with which each slot is fed; as can be seen in the photo, it is not symmetrical. Most antennas needed different internal striplines at each level in the antenna to meet the vertical radiation pattern specifications. Even if they were designed and built at the same time, where BBC and IBA each had a two channel antenna the panels would not be interchangeable between antennas.

In the case of Wenvoe eight panels per tier were used to allow more generous internal climbing space as deemed necessary for "providing safe access to your place of work".

The parasitic bars in front of the slots were a development required to get an omnidirectional pattern from the eight-around array, and excellent results were obtained. In fact the pattern was much better than most of those obtained with antennas built in the 1960s/1970s on smaller spines.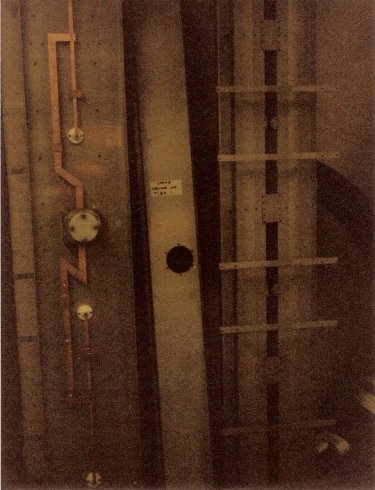 Although the quality of this first photo leaves a little to be desired, it has been included because it shows the slots in the panel more clearly than the pictures that follow, where the flash from the camera has lit what would otherwise be in shadow behind the slots. This should make what follows clearer....
Here again for comparison we've paired these two photos to show the slots with and without flash photography.
This panel - a spare for Tiers 4 or 5 - was standing (we are told) upside down for the photoshoot!
Here's the photo we saw at the top, the cover has been taken off the back of the panel on the left.
In this close-up you can see the metal feeder-pins coming from behind the slot and their connection to the left hand side of the panel.
Seen from the side, the metal pin feeding the slot is hidden by the spacer element, but it can be seen how the directive elements are clipped onto the front of the panel.
Back to TX Gallery index | TX main index
| | | |
| --- | --- | --- |
| mb21 by Mike Brown | Hosted by | |