UK Broadcast Transmission


THE TRANSMISSION GALLERY
ABERGAVENNY
| | |
| --- | --- |
| Photos by Jack Richardson | Page last updated: 2020-05-31 |
February 2020
So what can be said of Abergavenny? It's perched on top of a bloody great hill called Gilwern Hill, it's just off the Abergavenny to Blaenavon road, and there's parking at the end of the access track, which was guarded by some wild horses about halfway down! It's about 3 miles south of it's namesake, near Gilwern. This area is very hilly, and parts of Abergavenny are screened from this site by Blorenge mountain, and are served by Llanfoist instead.

Abergavenny provides a feed to a variety of relays around this area, including Brecon UHF (which itself is used as the RBL source for a further 4 downstream relays), Clydach, Llanfoist and Crickhowell.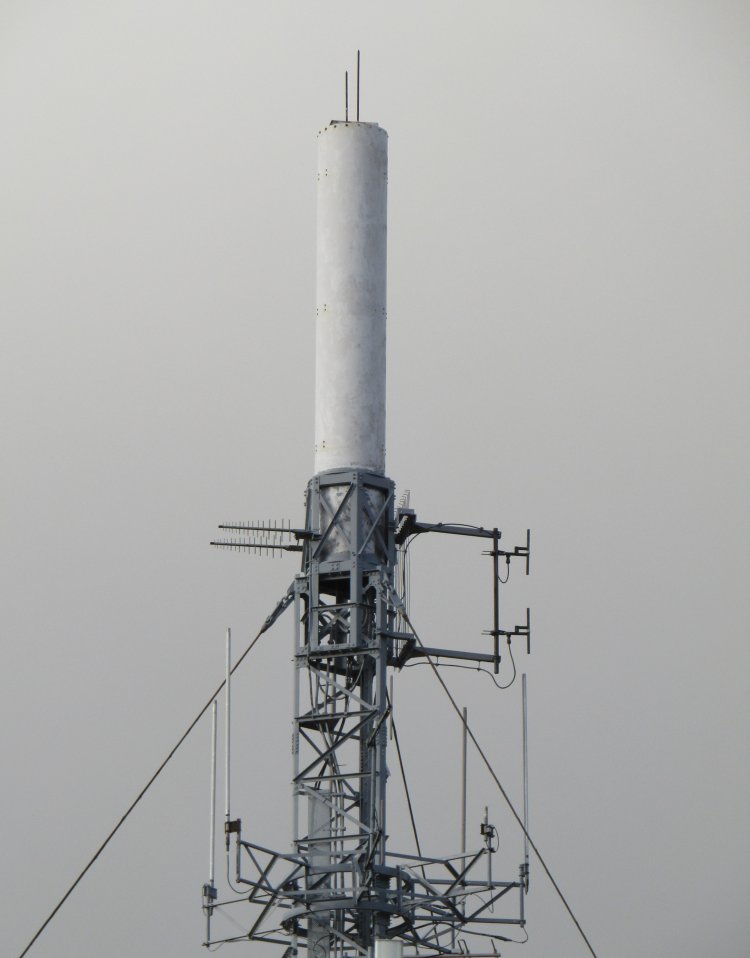 The DAB antennas are to the right of the UHF cylinder. They are used by both the BBC and South East Wales multiplexes. I'm not sure what the logs on the left are for, unless it's to feed another relay in this area, not covered by the beam of the UHF cylinder?

[Ed] I wonder whether they are used to feed Clydach?
Somewhat lost in the steelwork is a 3 element horizontal band II Yagi. This is probably the receive aerial for Sunshine FM, trained on Monmouth.
All FM services are transmitted from this aerial array comprised of two horizontal band II log perioidcs and one vertical dipole. The logs are pointing roughly east-northeast and northwest, and the vertical dipole is almost due north.
These aerials must be very directional as my car radio selected Sutton Coldfield for Radio 1's and 2 where I was parked at the end of the access track. Though I noticed Ridge Hill was putting in a strong signal here, and Abergavenny and Ridge Hill's BBC national FM frequencies are only 0.1 MHz apart, which is surprisingly close, considering Ridge Hill is about 27 miles away as the crow flies, and the fact that Ridge Hill's coverage pretty much joins up with Abergavenny's.
TV signals are fed from Ebbw Vale, and the original trough receive aerial has been replaced by a Sira panel. Top right. The 4 element vertical band II aerial lower on the right is probably the receive aerial for Heart FM. Also on Ebbw Vale. The band II log is on Wenvoe, and this feeds everything BBC except Radio Wales, which is line fed. This is either due to Wenvoe transmitting Radio Wales at a lower power than the other nationals, or because of interference around 103.9 MHz (Llandrindod Wells transmits Radio 4 on 103.8 MHz, that might be a source of interference here). Ebbw Vale transmits Radio Wales on 95.0 MHz, which is a bit too close to be used as an RBL source as this site transmits Radio Wales on 95.2 MHz.
The satellite dish on the right is most likely to be downlinking the BBC National DAB programme feed. The dish on the left looks to be pointing toward a satellite used to provide an RBS feed for the two BBC DTT multiplexes.
The larger satellite dish used to receive the BBC National DAB programme feed. This is a different dish from when Phil England visited in 2011.
Another bright and sunny day in Wales!
Time to get back to the car methinks...
Brecon UHF | Clydach | Crickhowell | Ebbw Vale | Llanfoist | Monmouth | Wenvoe
Back to TX Gallery index | TX main index
| | | |
| --- | --- | --- |
| mb21 by Mike Brown | Hosted by | |