UK Broadcast Transmission


THE TRANSMISSION GALLERY
BLACK MOUNTAIN
| | |
| --- | --- |
| Photos by Alan Price | Page last updated: 2017-03-21 |
March 2017
Staying in Belfast, I thought I'd take a look at Black Mountain and Divis. Unfortunately, after taking photos of Divis, my camera battery died when approaching Black Mountain. I returned the next day, but Sod's law, the weather was completely different with wind and rain! Please excuse the difference in light.

Black Mountain was the tenth ITA site, commencing operation 31 October 1959. Mast height was apparently limited to 228m due to Belfast Airport being close by.
These RCA aerials were a surprise. The only other sites where these exist is Kivey Hill, Foxhall Heath and Plympton. They are used for Downtown Radio/ Cool FM, which launched in March 1976, which makes these aerials over 40 years old. Downtown Radio/ Cool FM is 3.2kW
The former Channel 5 panels, in a similar 'skew fire' setup to Lichfield. Like Lichfield, Croydon, Burnhope and Mounteagle, Black Mountain was one of the former ITA launch transmitters for Channel 5 in March 1997. It would seem from Ofcom data, that these panels now transmit the Northern Ireland 'Mini Mux' (that carries RTE services) on UHF Ch 39 Horizontal at 2kW, to the Greater Belfast area. The other UHF services for the much shorter range relay station come from panels lower down the mast, (as seen in the picture lower on this page)
Panels for Northern Ireland DAB. Black Mountain is the most powerful transmitter at 7kW. The two panels on the right point towards Belfast.
The panels for the television relay pointing north and south, and the aerials for ILR 96.7 MHz (Q Radio) and 105.8 MHz (U105). U105 is 1.92kW, and Q Radio is 550 watts, probably to protect Downtown Radio from Brougher Mountain on the adjacent frequency of 96.6.

Despite Divis being close, the mountains block line of sight reception in low lying parts of West Belfast, such as Dunmurry. I noticed a lot of houses in the area have aerials pointing towards Clermont Carn, some houses having two aerials for Northern Ireland and Republic of Ireland reception.
...Rogue aerial two. I wonder if the one above is when maintenance is being carried out on the RCA aerials, and this one for when maintenance is being carried out on the two crossed yagis?
From what I remember these were pointing towards Belfast. Possibly monitoring a mainland transmitter perhaps?

FM aerials looking towards Belfast. Again, monitoring of a mainland transmitter?
Funny looking aerials looking at Divis.
Trough receive from Divis.
Log receive from Divis. Are these now used in preference to the trough?
Like Black Hill, Black Mountain features a lot of these arms on various parts of the mast, which are for wind vanes and anemometers.
Is the dish for DAB? Note the GPS cones.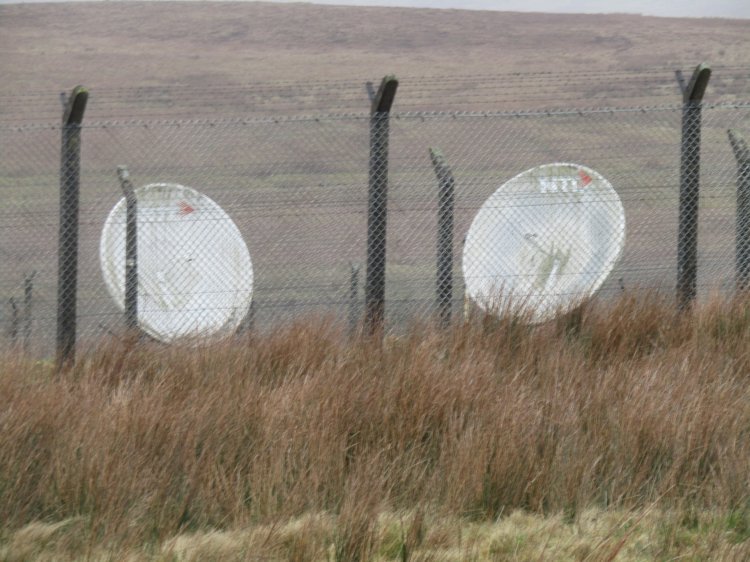 These dishes were probably used for the Channel 5 feed.
Aerial looking at Clermont Carn. Clermont is vertically polarized.
Divis as seen from Black Mountain.
Back to TX Gallery index | TX main index
| | | |
| --- | --- | --- |
| mb21 by Mike Brown | Hosted by | |