UK Broadcast Transmission


THE TRANSMISSION GALLERY
WEARDALE
| | |
| --- | --- |
| Photos by Steve Buckley and Ian Porter | Page last updated: 2020-03-30 |
Updated August 2011
Weardale was once a Band I site but the tower is of a type used at many early UHF relays.

When originally commissioned in 1966 (see BBC Research Report) the Band I array occupied the whole of the parallel section at the top, and Band II was a single horizontal dipole at around 20m AGL.

Both 405-line BBC 1 and BBC FM radio entered service on 21st February 1966. 405-line BBC 1 closed on 4th January 1983. FM radio was re-engineered for mixed polarisation, and Radio 1 added in February 1993.

Stays have been added - possibly due to the age of the structure and the exposed location?
Another site where the signs are used for target practice.
Steve submitted the original photo of this site (date unknown). Ian's update shows the addition of stays and removal of a few SHF links.
The use of a cylinder and twin troughs suggests this was an early UHF relay.

[Ed]. The service dates were: BBC 1, Sep-1972; BBC 2, Feb-1971; ITV, 24-Aug-1973; Ch 4, Sep-1986.
The original channel line-up was 51/44/41/47. During the summer of 1975 the channel allocations of BBC 1 & 2 were interchanged. The channel line-up was then 44/51/41/47 which was the same as at Emley Moor.

For Band II there are four slant polarised dioples rather than the usual panels. Perhaps this was done to reduce wind loading?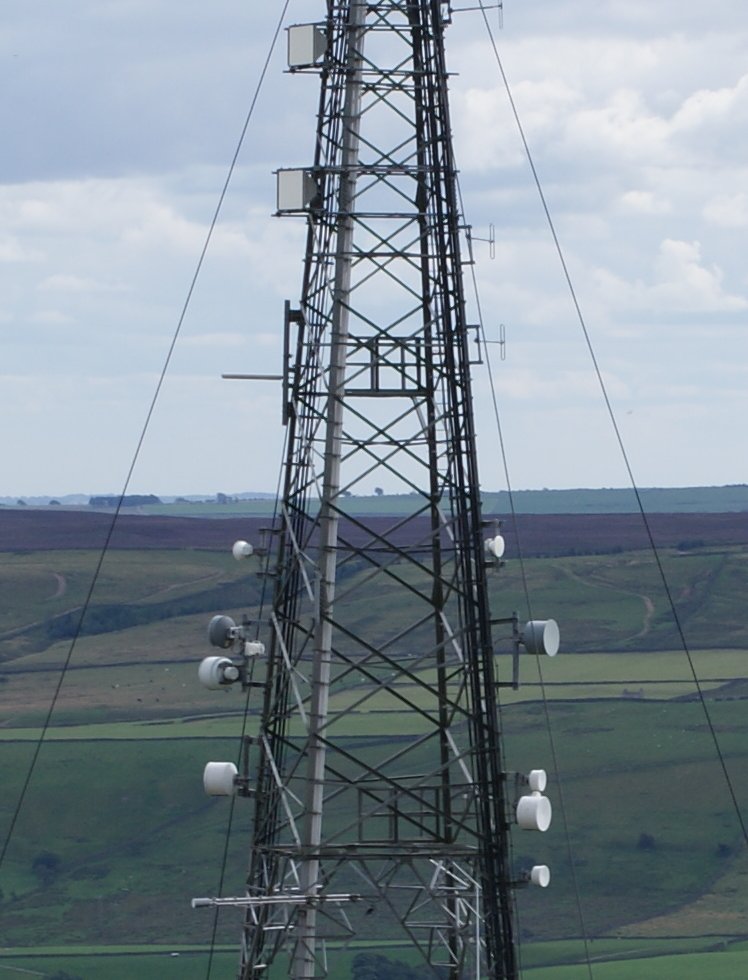 The FM receive log is at relatively low level.
BBC Research Report 1966/48: Transmitting Aerials for the Weardale VHF Television and VHF Sound Station

Back to TX Gallery index | TX main index
| | | |
| --- | --- | --- |
| mb21 by Mike Brown | Hosted by | |