UK Broadcast Transmission


THE TRANSMISSION GALLERY
| | |
| --- | --- |
| Photos by Dan Glover | Page last updated: 2018-11-01 |
NGR: NK126415
Maps: Google Bing (Ord Surv)
Site Height:
Structure Height: 30m
Digital TV:
BBC A: 45
D3&4: 42
BBC B: 39
BBC Radio:
Ind. National Radio:
Ind. Local Radio:
Digital Radio:
Comments:
Boddam is a relay of Durris
May 2017
The Boddam relay is located south east of the target service area, about 500 m from the Stirling Hill FM site. Happily it fell into the category "nobody has been here before" rather than "completely inaccessible without traversing mountains".


This is a harsh environment for signs..."11211 BODDAM" in marker pen isn't going to last.
The general situation. The dark blue on the left is the North Sea, beyond Boddam. The relay comprises the small "shower cubicle" style cabin to the right of the tower, a single log for receive and another (behind the structure) for transmit. Everything else is non-broadcast.
Round the other side, amongst other things, the transmit log.
It seems reception of Durris is not a challenge, indeed the few houses nearby use the main station rather than the relay.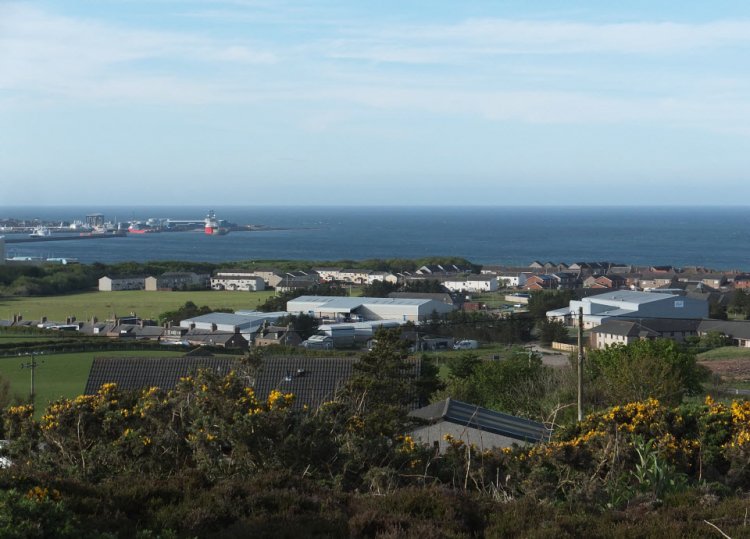 Back to TX Gallery index | TX main index
| | | |
| --- | --- | --- |
| mb21 by Mike Brown | Hosted by | |