UK Broadcast Transmission


THE TRANSMISSION GALLERY
SUDBURY A
| | |
| --- | --- |
| Photos by Simon Crees and Dan Glover | Page last updated: 2011-07-21 |
DSO and DAB - updated July 2011
Simon Crees visited in January 2010. By then the site had gained a new "wraparound" antenna - on Sudbury A.

Dan Glover dropped by in July 2011, while DSO was in progress. The original cylinder is still in place. Sudbury B supports the interim DTT arrays - and very little else. DAB is also on Sudbury A. Will Sudbury B remain in the longer term?

The answers to some of these questions can be found in the planning application (B/09/00122 at Babergh District Council) and have been included in the captions below. Many thanks to the mb21 contributor who found the planning documents.
Curiously, the sign hasn't been updated despite all the other activity.
Above and below: the new array - 12 tiers of 16 panels - which is the main antenna for COM multiplexes and reserve for PSB.
The planning documents say: "existing antenna and GRP cylinder to be retained...used as PSB main...6 tiers of EMIslot panels mounted on triangular spine". The original analogue array, unchanged?
The short cylindrical object on the left is apparently a "rotator dish". The large SHF dish is documented as on bearing 019. That's nearly right for Tacolneston - I suspect a slight error has crept into the records?
Lower down we have two troughs on the right, on bearing 022 - almost certainly on Tacolneston. The yagis to the left might well be to receive Crystal Palace. The bearing given in the planning document is also 022 but 227 would make more sense.

The panels, for Channel 5 analogue, are to be removed post DSO.
There are two arrays for DAB at Sudbury. Ofcom data lists the Essex regional multiplex as 94m AGL - a similar level to the ex-Channel 5 panels. The bearing isn't given, but I reckon the maximum ERP will be to the west.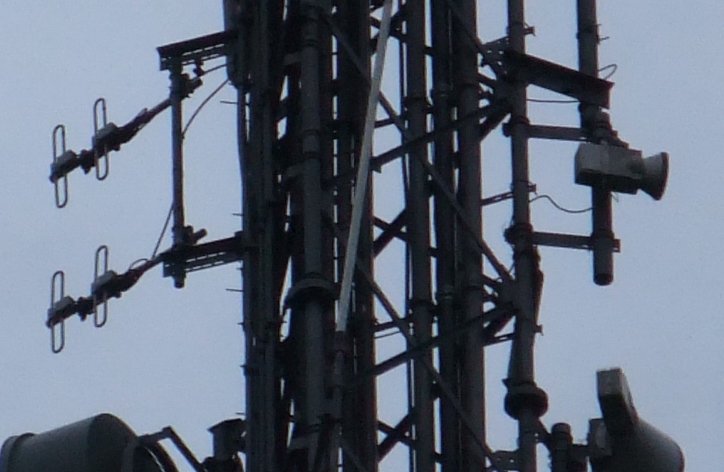 Digital One uses a separate array down at 61m AGL. This time the favoured direction is to the south west (bearing 235).
A quick look at the top of Sudbury B - the main array is to be retained - presumably as COM reserve. The lower group of panels were used for an additional pre-DSO MUX2 service and are to be removed.

The planning application includes a new feeder route from this structure to the original building.
Meanwhile, at ground level, DSO work also has non-technical challenges...
This building, towards the rear of the site, was probably constructed at the same time as Sudbury B. Only minor extensions to the buildings have been required for DSO.
The planning application includes a generator - to be located elsewhere on-site - but this one looks to be a temporary addition.
Back to TX Gallery index | TX main index
| | | |
| --- | --- | --- |
| mb21 by Mike Brown | Hosted by | |