UK Broadcast Transmission


THE TRANSMISSION GALLERY
LLANDDONA
| | |
| --- | --- |
| Photos by Bev Marks, Robert Golder and Ray Cooper | Page last updated: 2013-12-24 |
Earlier photos
Llanddona was originally established as a BBC FM radio site on 22nd December 1958. BBC TV, VHF channel 1 was added on 15th May 1962, (closed January 1984), and BBC 2 from 3rd June 1967. BBC 1 UHF from April 1973, ITV from 6th September 1973 and S4C from 1st November 1982.

The location, near the north east corner of Anglesey, means that directional arrays have always been required - there is no benefit to providing coverage to points between approximately north west and east. The BBC Research paper, linked below, covers the design of the UHF array installed in 1967. It is not known whether this underwent any subsequent re-engineering but at the time of DSO in 2009 the cylinder was still in place - though it was subsequently changed in June 2012, see other page

We understand that analogue BBC was fed from Blaenplwyf via the link site at Bwlch Mawr - an arrangement which started in 405-line days.

In 1985, FM radio was re-engineered for mixed polarisation and converted to stereo. Radio's 1 & 4 were added on 7th January 1991. Classic FM and ILR are transmitted from Great Ormes Head.

Digital One and BBC DAB were added in July 2006.

This old Crown Castle name-plate had a quick and cheap make-over! By now it probably has Arqiva stickers - or perhaps there's a new sign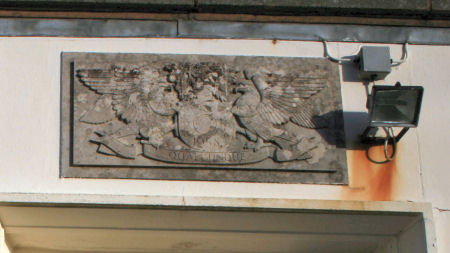 Finally this photo below from Ray Cooper presents a rarely seen view of Llanddona from out at sea...
Bwlch Mawr (Link site) | Great Ormes Head
UHF Transmitting Aerial for the Llanddona Television Station (BBC Research paper 1967-39)
Service Area of the Llanddona, Llangollen and Blaenplwyf VHF Sound Transmitters (1960)
Service Area of the Llanddona Television Transmitter (1963)

Back to TX Gallery index | TX main index
| | | |
| --- | --- | --- |
| mb21 by Mike Brown | Hosted by | |