UK Broadcast Transmission


THE TRANSMISSION GALLERY
LLANDDONA
| | |
| --- | --- |
| Photos by Dan Glover | Page last updated: 2017-01-22 |
DSO and DAB - June 2012
The initial mission was to photograph the DAB antenna. It became clear on approach that there might be something else going on...

Llanddona is unusual in having a post-DSO change of the main antenna array.

We understand that interim DTT was transmitted from the original cylinder. The panels were added later but at the time of DSO in November 2009 the original cylinder was retained as the main array. Channel 61/62 clearance at Winter Hill required multiplex Arq B at Llanddona to release channel 50 for use there. The replacement UHF channel allocation was 40, which was too low a frequency for the old cylinder to transmit.

In early June 2012 the cylinder was rigged for removal, a new array was waiting just inside the fence and a helicopter duly arrived. Unfortunately the lift was to take place the following day so Dan missed the action once again!
In this overview we can see an array of panels below the cylinder and, more significantly, a cage about half way up. Something might be happening...
On closer inspection it's clear that the cylinder is rigged for removal and therefore services must be using the group of panels just below.
This three-sided arrangement of panels was located just inside the outer fence...
...together with this adaptor
In the next group of photos we're to the east of the mast, looking west. The group of panels therefore serves east/west and south, with a single panel on the opposite face providing some signal to the area north west from the site
As will be confirmed shortly, the Band II array also lacks coverage to the north
The DAB array is squeezed in under Band II. It consists of the two dipoles we can see, plus two 5-element yagis facing west - see later.

The SHF dish probably faces Moel-y-Parc. This site seems relatively uncluttered in terms of mobile phone or other site sharing and the SHF links are therefore likely to be (or have been) broadcast related
Nearer the bottom, the first couple of quite a large collection of Band II yagis. Broken or missing elements are a bit of a hazard on such an exposed site...
The troughs were presumably for RBS purposes, receiving Moel-y-Parc
Another couple of yagis near the bottom. I wonder if some are/were purely for monitoring purposes?
The bungalow just visible on the left was for sale in 2012 and received national press coverage since the particulars concentrated on the view out to sea from the front rather than the 350ft mast at the back.
From slightly north of the mast - the lone panel and confirmation that there are no radiating elements on the Band II array on this side
Another look at the DAB array in slightly fuzzy detail - two dipoles and two yagis giving coverage concentrated southwest and east from the site
Just as Dan was driving away (late on Saturday afternoon) this Airlift helicopter appeared and landed next to the new array. After a brief wait it became clear that any further activity would be the next day - 10 June 2012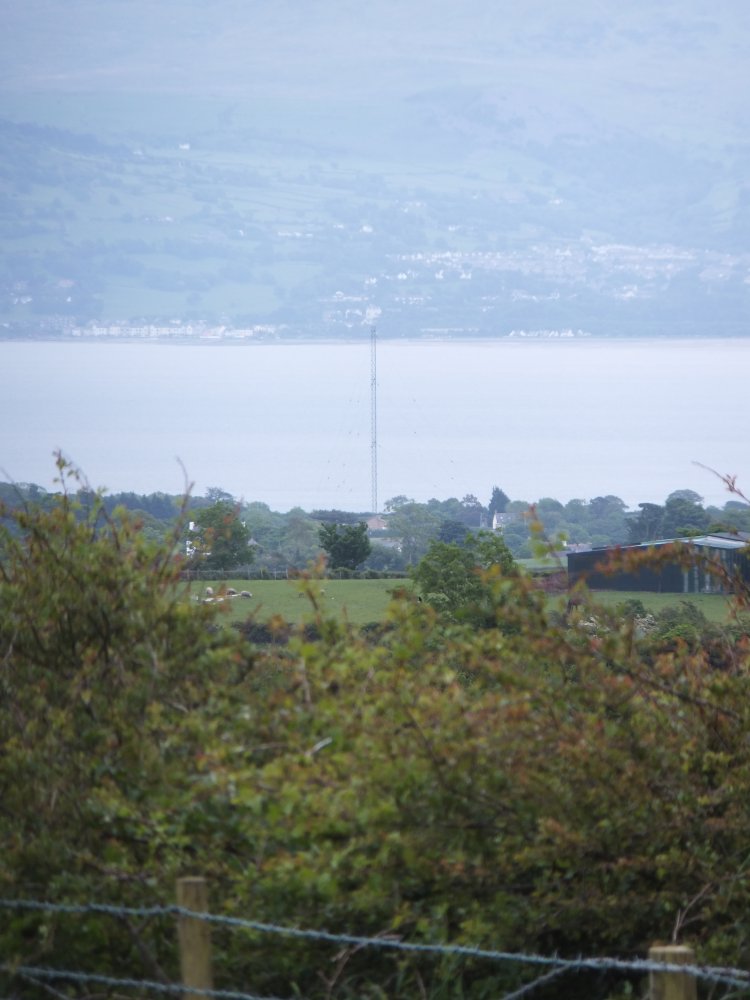 Looking south east - the Radio Wales MF site at Penmon and across to Llanfairfrechan
Back to TX Gallery index | TX main index
| | | |
| --- | --- | --- |
| mb21 by Mike Brown | Hosted by | |